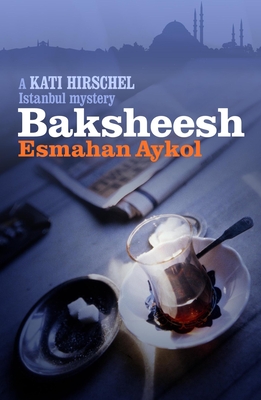 Baksheesh (Kati Hirschel Istanbul Mysteries) (Paperback)
Bitter Lemon Press, 9781908524041, 253pp.
Publication Date: March 5, 2013
* Individual store prices may vary.
Description

Kati Hirschel, the owner of Istanbul's only mystery bookstore, is fed up. It all started when her lover Selim insisted that she behave like the Turkish wife of a respectable lawyer. Looking demure and making witty small talk were the only requirements. Then her landlord announced an outrageous rent increase on her Istanbul apartment. She has no desire to move in with Selim. She'd rather learn the art of bribing government officials in order to find a new place. Kati is offered a large apartment with a view over the Bosphorus at a bargain price. Too good to be true until a man is found murdered there and she becomes the police's prime suspect. In her second novel Esmahan Aykol takes us to the alleys and boulevards of cosmopolitan Istanbul, to posh villas and seedy basement flats, to the property agents and lawyers, to Islamist leaders and city officials--in fact everywhere that baksheesh helps move things along. Praise for the first Kati Hirschel Istanbul mystery: "The heroine is an offbeat amateur sleuth with a distinctive narrative voice. Fans of such female detectives as Amanda Cross's Kate Fansler and Kerry Greenwood's Phryne Fisher will find a lot to like."--Publishers Weekly

About the Author
Esmahan Aykol: Esmahan Aykol was born in 1970 in Edirne, Turkey. She lives in Istanbul and Berlin. During her law studies she was a journalist for a number of Turkish publications and radio stations. After a stint as a bartender she turned to fiction writing. She has written three Katie Hirschel novels. Hotel Bosphorus is the first and has been published in Turkish, German, French and soon in Italian.Ruth Whitehouse: Ruth Whitehouse worked as a violinist in Ankara. She pursued her interest in Turkish culture and literature by doing by obtaining a PhD in Turkish Literature at SOAS in London. This is her first translation of a full novel but her work has been broadcast on BBC Radio 4 in April 2010 in a series called Young Turks, featuring translations of work by young Turkish writers.