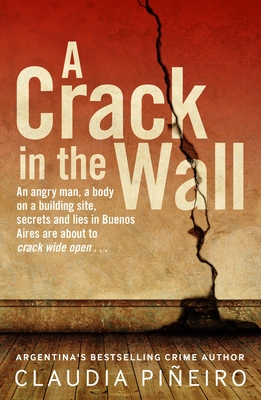 A Crack in the Wall
Paperback

* Individual store prices may vary.
Description
Praise for Claudio Pi eiro:
An agile novel, a ruthless dissection of a fast decaying society.--Jos Saramago, winner of the Nobel Prize in Literature
Thursday Night Widows is a gripping story. The dystopia portrayed is an indictment not solely of an assassin but of Argentina's class structure and the willful blindness of its petty bourgeoisie.--The Times Literary Supplement
Pablo Sim 's life is a mess. His career as an architect is at a deadend; reduced to designing soulless office buildings desecrating the heart of Buenos Aires. His marriage seems to be one endless argument with his wife over the theatrics of their rebellious teenage daughter. To complicate matters, Pablo has long been attracted to sexy office secretary Marta Horvat, who is probably having an affair with his boss. Everything changes with the unexpected appearance of Leonor, a beautiful young woman who brings to light a crime that happened years before, a crime that everyone in the office wants forgotten, at all costs.
Claudia Pi eiro once again demonstrates her capacity to reveal the things hidden behind the facades of our existence; human relationships based on habit and cowardice, rather than love; on excessive ambition and personal gain, rather than morality.
Claudia Pi eiro, formerly a journalist and playwright, is the author of literary crime novels that are all bestsellers in Latin America and have been translated into many languages. A Crack in the Wall follows on the success of All Yours and Thursday Night Widows, both previously published by Bitter Lemon Press.
Bitter Lemon Press, 9781908524089, 230pp.
Publication Date: August 6, 2013