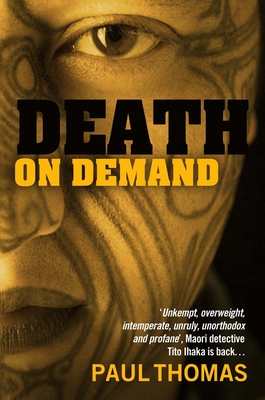 Death on Demand (Paperback)
Bitter Lemon Press, 9781908524171, 288pp.
Publication Date: October 8, 2013
Description
"It's the stuff the best gangster films are made of, perfectly composed, the action kept in the realm of reality and a steady, tense wire of human pathos running down its spine.""The Coast"
"Tito Ihaka, the maverick Maori cop, dances through a minefield of police politics, old grudges, blackmail, and gangs as he hunts a faceless killer in Auckland. Filled with helter-skelter storylines, witty dialogue, and captivating characters.""Herald on Sunday"
Paul Thomas, the godfather of contemporary New Zealand crime writing, often described by some as "Elmore Leonard on acid," has brought back offbeat local hero Detective Sergeant Tito Ihaka.
Maori cop Ihaka, unkempt, overweight, intemperate, unruly, unorthodox, and profane, is a cop unable to play the police politics necessary for promotion, but he's a man who has a way with women, and he's a stubborn investigator with an uncanny instinct for the truth.
Tito Ihaka is in the wilderness, having fallen foul of the new regime at Auckland Central. Called back to follow up a strange twist in the unsolved case that got him into trouble in the first place, Ihaka finds himself hunting a shadowy hitman who could have several notches on his belt.
His enemies want him off the case, but the bodies are piling up. Ihaka embarks on a quest to establish whether police corruption was behind the shooting of an undercover cop andto complicate mattershe becomes involved with an enigmatic female suspect who could hold the key to everything.

About the Author
Paul Thomas: Paul Thomas, born in the UK in 1951, emigrated, age 3, with his family to New Zealand. He lives in Wellington and is the country s best known best known crime writer. His novels include Dirty Laundry(aka Old School Tie, 1994), Inside Dope (1995), Guerrilla Season (1996), Final Cut (1999), The Empty Bed (2002) and Sex Crimes (2003). In addition, Thomas has written short stories and screenplays for TV, including Ihaka: Blunt Instrument.

"
Advertisement