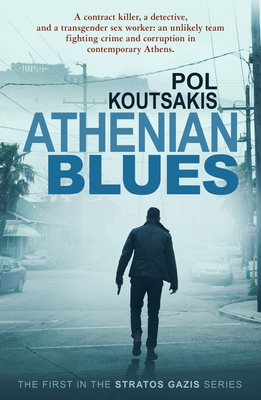 Athenian Blues (Stratos Gazis #1) (Paperback)
Bitter Lemon Press, 9781908524768, 278pp.
Publication Date: April 11, 2017
* Individual store prices may vary.
Description
The first in the Stratos Gazis mystery series and the first time this Greek novelist is available in English.
Stratos hates being called a hitman. A conscientious fixer is what he is. He fixes problems that very few can deal with. Things that people are willing to pay handsomely to get done, without wanting to know about the small stuff. Stratos is their man, provided that his meticulous research shows him that the targets deserve their fate.
But now, in the midst of the Greek economic and political crisis, this film-noir loving assassin takes on the highest-profile case of his career. He finds himself caught between the most beloved lawyer in Greece, known as "the guardian of the poor," and his actress wife, the most desirable woman in the country. They are both in dire need of his killing services, but which one is telling the truth? Helped by three childhood friends--Costas Dragas, a homicide cop; Teri, a transsexual high-class hooker; and Maria, the passion of his life--he discovers that truth, in shattered loves and broken families, is, as ever, a relative thing.
Pol Koutsakis, born in Crete in 1974, writes novels, plays, and screenplays. Athenian Blues is his first novel to be translated into English. Baby Blue, the sequel to Athenian Blues, is expected to be published by Bitter Lemon Press in 2018.
About the Author
Pol Koutsakis was born in 1974 in Chania, Crete, Greece. He is a playwright, novelist, and screenwriter. In 2007 he won the National Award for Playwriting in Greece. His plays have been staged in the USA and the UK and published in Canada. He is currently living in Perth, Australia, with his wife, daughter and son. "Athenian Blues" is his first crime novel and the first of his books to be translated into English. The next in the series, "Baby Blue," will be published by Bitter Lemon Press in 2018.