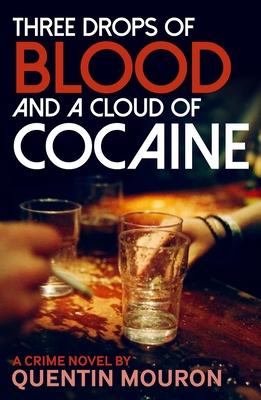 Three Drops of Blood and a Cloud of Cocaine (Paperback)
Bitter Lemon Press, 9781908524836, 232pp.
Publication Date: July 11, 2017
* Individual store prices may vary.
Description
After Joel Dicker, here is the latest literary sensation from Switzerland: brilliant twenty-five-year-old novelist Quentin Mouron with his first mystery novel, which garnered ecstatic reviews in the French-speaking world. This is the first time his work is available in English.
Three Drops of Blood and a Cloud of Cocaine is a darkly humorous literary and psychological mystery set in a Boston still suffering from the consequences of the financial crisis.
Written with the pace and controlled violence of the very best Tarantino film When old Jimmy Henderson is found murdered in his Ford pick-up truck in a suburb of Boston, Sheriff Paul McCarthy takes charge of the investigation. Soon, Franck, a young private detective visiting from New York, also takes an interest in the case. Breaking the conventions of the genre, the novel holds a satirical mirror to our society by entering the minds of two men right on the edge of sanity. Sheriff McCarthy, a church-going man, desperately trying to keep a boundary between the sordidness of his investigations and his private life. And Franck, a violent, decadent dandy, always rushing to the bathroom for another line of coke, revealing the darker workings of the case with a blood curdling laugh. When the two men finally meet the entire existence of the sheriff as a righteous family man - and probably as a police officer -- will be turned on its head. "Mouron is a revelation. He juggles characters with ease in a seamy world perfectly evoked, and all of it is done in a taut high-tempo style. " HuffPost "Three Drops follows the US tradition of the searing social novel, literary, troubling, to be read in one sitting. It leaves a bitter and vivid after-taste, like the morning after a sleepless night." Le Temps
About the Author
Quentin Mouron is a poet and a novelist. He was born in Lausanne in 1989 and is Swiss and Canadian. In 2011 he won the prix Alpes-Jura for his novel Au point d'effusion des egouts . He has written three other highly acclaimed novels before Three Drops of Blood and a Cloud of Cocaine. W. Donald Wilson is a translator from Canada. Among his many works are the translations of two novels by Prix Goncourt winner Jacques Chessex, A Jew Must Die and The Vampire of Ropraz, and the book With the Animals by Noelle Revaz.