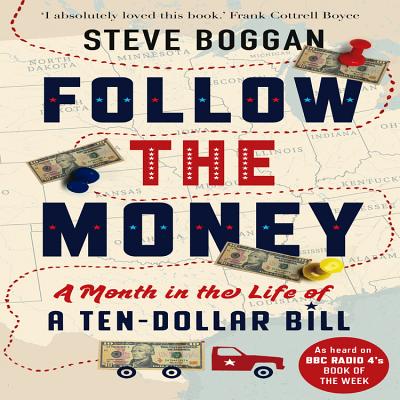 Follow the Money: A Month in the Life of a Ten-Dollar Bill (Paperback)
A Month in the Life of a Ten-Dollar Bill
Aurum Press Ltd, 9781908526212, 304pp.
Publication Date: April 1, 2013
* Individual store prices may vary.
or
Not Currently Available for Direct Purchase
Description
What do you do if you want to really understand a country, to understand its people and feel its heartbeat? You can follow the rest of the tourists, or you can take the advice of Watergate reporter Bob Woodward's source, Deep Throat, and follow the money.

Starting out in Lebanon, Kansas the geographical centre of America journalist Steve Boggan did just that by setting free a ten-dollar-bill and accompanying it on an epic journey for thirty days and thirty nights through six states across 3,000 miles armed only with a sense of humor and a small, and increasingly grubby, set of clothes. As he cuts crops with farmers in Kansas, pursues a repo-woman from Colorado, gets wasted with a blues band in Arkansas and hangs out at a quarterback's mansion in St Louis, Boggan enters the lives of ordinary people as they receive and pass on the bill. What emerges is a chaotic, affectionate and funny portrait of the real modern-day America.
About the Author
STEVE BOGGAN was Chief Reporter of the Independent and co-founder of the investigations unit before moving into feature writing, which he now does for the Guardian, The Times and the Evening Standard. He lives in London.
Praise For Follow the Money: A Month in the Life of a Ten-Dollar Bill…
'..ordinary Americans, so-called, bring Mr. Boggan's book to life  - aided by the author's sharp eye and generous spirit… His account makes for engaging reading.' - Wall Street Journal

'A wonderful premise for a travelogue and Boggan exploits its potential to the full, asking questions about his own life as he charts the rich variety of America's rural and city inhabitants.' - Daily Mail

'Boggan's random and democratic MO means that he gets to hang out with everyone from fire marshals to rock bands in this enjoyable travelogue with a difference, which might appeal to readers of Bill Bryson or Tony Hawks.' - The Herald

'A fun, multi-faceted travelogue.' - Kirkus Reviews

'(Boggan) watched as the money was exchanged in transaction after transaction, and learned a whole lot about the U.S. economy in the process.' - Marketplace, American Public Media

'The journey of Boggan's ten-dollar bill lasts thirty days, covers three thousand miles and reveals an image of America, one that transforms the ordinary and mundane into something that seems almost transcendent.' - The Digital Journal.

'I can't remember reading a book where the author is continually making fun of himself yet becomes more and more admirable and likeable as the book goes on. He has created a cast of interesting and entertaining characters that are vivid, memorable, and a pleasure to hang out with. The book is an unexpected delight.' - Luke Rhinehart/George Cockcroft, The Dice Man

'Boggan has constructed a hugely endearing narrative personality...his raconteurship has you chuckling as the author ill-advisedly microwaves his underwear, delightedly discovers a "drive-thru bottle shop", and generally behaves, in refreshing contrast to the exhausting get-up-and-go of the travel genre, with a lovably shambolic lassitude.' - The Guardian

'A laugh-out-loud triumph' - The Sun

'A wonderful premise for a travelogue and Boggan exploits its potential to the full, asking questions about his own life as he charts the rich variety of America's rural and city inhabitants.' - Daily Mail 'Must Read''The strength of Boggan's writing is the clear, clean and non-judgemental prose style that lets the remarkable and disparate lives of those he encounters speak for themselves. Heart-warming, fascinating stuff.' - The Big Issue

'Charming, often funny and engrossing' - The Australian

'Thoroughly enjoyable debut, in the vein of Louis Theroux and Jon Ronson, which gives us an intelligent and humorous portrait of an America tourists rarely see' - The Bookseller

'I absolutely loved this book…a funny, penetrating, warm-hearted journey to the very heart of the one thing that both unites and divides us most profoundly – money.'  - Frank Cottrell Boyce (Author, Millions, 24 Hour Party People, Welcome to Sarajevo and author of the script for the 2012 London Olympic opening ceremony)

'A great way to explore and understand the soul of America in the 21st Century. A terrific read' - Rosie Boycott (Author and literary commentator)

'Steve Boggan's quest to plant a ten dollar bill into the heart of America...is an astute one.' - We Love This Book

'An interesting book from an exciting new publisher' - Conde Nast Traveller

'Boggan covers six states and a distance of 3000 miles, relating his experiences with a self-deprecating wit' - Lonely Planet Magazine

 " ...ordinary Americans, so-called, bring Mr. Boggan's book to life—aided by the author's sharp eye and generous spirit." - Wall Street Journal


"Like Bill Bryson, whose travel books are as much about the people he meets as they are about the places he visits, Boggan writesentertainingly about the characters he encountered...A nifty book with an unusual premise and plenty of fun." - David Pitt, Booklist

"It would be easy enough to say that Boggan just got lucky, that his $10 bill was touched by a certain magic that led him to good places and away from bad ones. Perhaps so. But at a moment in our history when so many Americans are troubled by what they see as anger and hostility among their fellow citizens, it is rather nice to be given a bit of evidence that this may not be entirely true." - The Washington Post

"In 2006, British journalist Boggan wrote an article about following a single 10-pound note for a week, tracking its movements from hand to hand. This highly entertaining book expands on the theme. Making his way to the U.S., Boggan sent a marked $10 bill on its way, vowing to follow its progress for a full month. His journey—or, rather the bill's journey—took him from his starting point of Lebanon, Kansas (popularly if inaccurately known as the geographical center of the U.S.) to Detroit, Michigan, a distance of more than 3,000 miles. The rules were simple: he had to be present at every transaction, he couldn't influence how the 10 bucks was spent, and he couldn't influence where the bill went (there was a tense moment when a guy said he was going to mail the bill to a place 406 miles away). Like Bill Bryson, whose travel books are as much about the people he meets as they are about the places he visits, Boggan writes entertainingly about the characters he encountered along the way—most of whom were, somewhat surprisingly, pretty cool with his unusual request to follow them around until they spent the money—and about his various misadventures, which included racing down the road in hot pursuit of a First Responders' vehicle on the way to an emergency. A nifty book with an unusual premise and plenty of fun." — David Pitt, starred Booklist Review
'A compelling, inspiring and oddly reassuring portrait of modern America. Fantastic debut.' - Time Out 5-Star Review

'Its randomness is its joy' - The Independent

'A picaresque travelogue about chasing an idea through down-home modern America.' - The Times
"An engaging, positive portrait of the American Midwest as seen through the eyes of an Englishman, this will particularly appeal to fans of Bill Bryson." — Library Journal
Advertisement