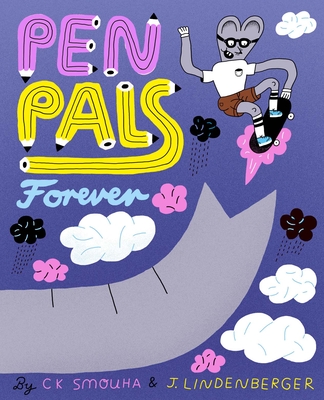 Penpals Forever
Hardcover

* Individual store prices may vary.
Description
As in Smouha's Sock Story (2019), the tale's enjoyable on its own, but there's plenty going on between the lines too. --Booklist
Cute story with entertaining illustrations. --Youth Services Book Review
I loved the clever story so much The writing is excellent, and the characters are fun. It's a delight from start to finish --Luminous Libro
The story of a mouse and elephant who become pen pals despite some minor size differences.
CK Smouha is the author of Born Bad, Sock Story and Iced Out (Cicada 2018 and 2019).
Freddy the mouse is practising his skateboarding when a vast, white shape descends from the sky. It's a letter from a science-loving elephant called Annabel The two become penpals. When Freddy's letters stop coming, Annabel must go to the city to rescue him from the notorious Cheddar Dave and his gang. Freddy and his roomate, Pizza Pete, then go to the Savannah, where they save Annabel's laboratory from some hungry termites. Just as they leave to go their separate ways, Pete finds a letter from a termite called Daisy, and a new penpal relationship is formed.
This is a madcap romp about two friends who could not be more different. Hilarious illustrations play with scale discrepancies and are complemented by luxury production effects, bringing a message of tolerance and acceptance to life.
Cicada Books, 9781908714718, 44pp.
Publication Date: October 13, 2020