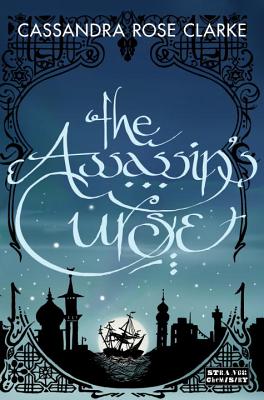 The Assassin's Curse (Paperback)
Strange Chemistry, 9781908844019, 298pp.
Publication Date: October 2, 2012
Other Editions of This Title:
MP3 CD (9/20/2016)
* Individual store prices may vary.
Description
Ananna of the Tanarau abandons ship when her parents try to marry her off to an allying pirate clan: she wants to captain her own boat, not serve as second-in-command to her handsome yet clueless fiance. But her escape has dire consequences when she learns the scorned clan has sent an assassin after her.
And when the assassin, Naji, finally catches up with her, things get even worse. Ananna inadvertently triggers a nasty curse with a life-altering result. Now Ananna and Naji are forced to become uneasy allies as they work together to break the curse and return their lives back to normal. Or at least as normal as the lives of a pirate and an assassin can be.
About the Author
Cassandra Rose Clarke is a speculative fiction writer living amongst the beige stucco and overgrown pecan trees of Houston, Texas. She graduated in 2006 from The University of St. Thomas with a bachelor s degree in English, and in 2008 she completed her master s degree in creative writing at The University of Texas at Austin. Both of these degrees have served her surprisingly well.

During the summer of 2010, she attended the Clarion West Writers Workshop in Seattle, where she enjoyed sixty-degree summer days. Having been born and raised in Texas, this was something of a big deal. She was also a recipient of the 2010 Susan C. Petrey Clarion Scholarship Fund.

Unlike many authors, Cassandra does not have a resume of peculiar careers. In her spare time she enjoys drawing, painting, crocheting, cooking, and quilting, because she is secretly an old lady. She will see literally any movie as long as it s in a theater. She watches television. She doesn t play many video games, though."
Praise For The Assassin's Curse…
"Clarke's debut harkens back to the best in fantasy/adventure, offering rock-solid worldbuilding, satisfyingly perilous obstacles and a protagonist whose charismatic 'tude goes way beyond spunk. Ananna's voice grabs readers from the beginning […] and doesn't let go."
--Kirkus Starred Review

"Unique, heart-wrenching, full of mysteries and twists!"
-Tamora Pierce

"An inventive debut with a strong narrative voice, a glimpse of an intriguing new world." – Adrian Tchaikovsky, author of the Shadows of the Apt series

"Ananna of Tanarau is a delightfully irascible heroine, inhabiting a fascinating and fresh new world that I would love to spend more time in. Pirate ships? Camels? Shadow dwelling assassins? Yes please! Can I have some more?"
– Celine Kiernan, author of the Moorhawke trilogy

"A story that will draw you in with its rich setting filled with assassins, pirates, magic, and two lead characters that you can't help but root for. A highly recommended read! (35/35)" – Fantasy's Ink

"The Assassin's Curse […] gave me a fantastical story of epic levels, with grand fantasy that seems bigger than the story itself and characters that I'm ever-rooting for, and I'm ridiculously impressed! A definite favorite of the year!" – Paranormal Indulgence

"It's an exhilarating tale filled with sword fights, magic, suspense, and subtle romance. I devoured it in one sitting!" - http://amysbookden.blogspot.co.uk/2012/09/early-review-assassins-curse-by.html

"It was just as fun as a book about a Pirate Princess reluctantly attached to a Magical Assassin could possibly be." - http://brandy-painter.livejournal.com/90652.html

"With an instantly compelling plot, loveable characters, and a completely engaging romance, The Assassin's Curse by Cassandra Rose Clarke is one of the most engrossing books I've read this year." - http://recoveringpotteraddict.blogspot.co.uk/2012/09/review-assassins-curse-assassins-curse.html

"An exciting and original YA novel with magic, pirates, myth and adventure, The Assassin's Curse will hook you in and keep you tugging on the line for the next book in Clarke's series."
- Serena Chase, USA Today

"Think Aladdin mixed with say, Tamora Pierce's Alanna series, plus a little Pirates of the Caribbean for good measure, and you'll have an idea of the flavour of this story.  I know you're already thinking it, Fun with a capitol F, and you're right, it is."
-Rhiannon, The Diary of a Bookworm