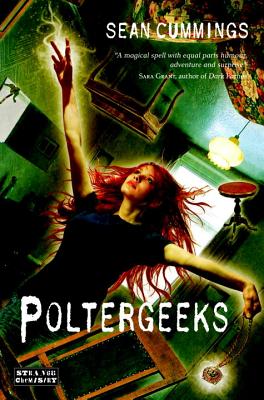 Poltergeeks (Paperback)
Strange Chemistry, 9781908844101, 285pp.
Publication Date: October 2, 2012
Other Editions of This Title:
MP3 CD (9/13/2016)
* Individual store prices may vary.
Description
15-year-old Julie Richardson is about to learn that being the daughter of a witch isn't all it's cracked up to be.
When she and her best friend and uber-geek, Marcus, witness an elderly lady jettisoned out the front door of her home, it's pretty obvious to Julie there's a supernatural connection. The house is occupied by a poltergeist and in order to reclaim it, Julie's going to have to exorcise the spirit. Of course, she'll need her mother's help and what teenager in their right mind wants that? Surely she can do this on her own - right...?

But there's a whisper of menace behind increasing levels of poltergeist activity all over town. After a large-scale
paranormal assault on Julie's high school, her mother falls victim to Endless Night - a dark spell that rips her mom's
soul from her mortal body. Now it's a race against time to find out who is responsible or Julie won't just lose her
mother's soul, she'll lose her mother's life.
About the Author
Sean Cummings is a comic book geek, superhero junkie, zombie fan and a total nerd. (He's also a gold mine of completely useless information about films made prior to 1960. Don't get him started on "Arsenic and Old Lace" because he won't shut up about it. ) He's been writing since 1978 (as a means of liberating his "inner nerd").

His interests include science fiction, the borg, cats with extra toes, east Indian cuisine and quality sci-fi movies/television. When he's not collecting comic books or attending the latest science fiction convention, he can be found in his home office, writing away like a man possessed.
Praise For Poltergeeks…
"POLTERGEEKS  is action and magic brewed into a fast-paced, death-defying spell of a read. Best friends Julie and Marcus make for a fantastic team with great chemistry and quick humor to balance out the dark peril in this high-stakes, do-or-die tale of witchcraft and suspense."
-Erin Kellison – Author of Shadow Bound

"The action starts on page 1 and never lets up. Julie, an apprentice witch, and her sidekick Marcus, a science nerd who can't quite believe some of the things he's seeing, make an ideal team. Together, they face everything from the hazards of high school hallways to an evil spirit bent on destroying witches. By turns funny, moving, and action-packed, POLTERGEEKS is almost too much fun!"
-Nancy Holzner – Author of Deadtown

"POLTERGEEKS is GHOSTBUSTERS meets SABRINA THE TEENAGE WITCH  with a dash of X-FILES. A magical spell with equal parts humour, adventure and surprise."
-Sara Grant – Author of Dark Parties

"Julie is one kick-ass young woman! The story gripped me from the first page and provided a dark but thrilling romp through a wonderfully constructed magical world. POLTERGEEKS is true edge-of-your-seat entertainment and I am really hoping there will be a sequel!"
-Linda Poitevin – Author of Sins of the Angels

"POLTERGEEKS rattles along at a fair old clip, shooting out thrills and spills and quite a few good jokes along the way. All this is carried off with an enviably light touch that makes Sean Cummings not just a good YA writer, but a good writer whatever genre he chooses to work in."
-Gary McMahon – Author of Pretty Little Dead Things
or
Not Currently Available for Direct Purchase