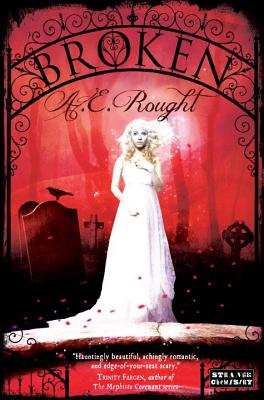 Broken (Paperback)
Strange Chemistry, 9781908844316, 320pp.
Publication Date: January 8, 2013
* Individual store prices may vary.
Description
A string of suspicious deaths near a small Michigan town ends with a fall that claims the life of Emma Gentry's boyfriend, Daniel. Emma is broken, a hollow shell mechanically moving through her days. She and Daniel had been made for each other, complete only when they were together. Now she restlessly wanders the town in the late Fall gloom, haunting the cemetary and its white-marbled tombs, feeling Daniel everywhere, his spectre in the moonlight and the fog.

When she encounters newcomer Alex Franks, only son of a renowned widowed surgeon, she's intrigued despite herself. He's an enigma, melting into shadows, preferring to keep to himself. But he is as drawn to her as she is to him. He is strangely…familiar. From the way he knows how to open her locker when it sticks, to the nickname she shared only with Daniel, even his hazel eyes with brown flecks are just like Daniel's. The closer they become, though, the more something inside her screams there's something very wrong with Alex Franks.
About the Author
Self-proclaimed nerd, A.E. Rought has spent most of her early life in libraries and bookstores. It's no surprise that she turned to writing shortly after creative arts college. She has novels of varying genres, and different pennames, published since 2006. The author lives in Montague, Michigan (near Grand Rapids).
Praise For Broken…
"Using every tool from characterization to ambient light and noise, Rought has created a fully rounded depiction of the aching void of teen grief and the renewal of hope discovered when romance is both new … and familiarly true." 
-Serena Chase, USA Today "Happy Ever After" (http://www.usatoday.com/story/happyeverafter/2013/01/21/ya-romance-recs-splintered-broken-the-fairest-beauty/1852605/)

"A true Gothic romance, deliciously written in a modern setting. Death, kissing, and a smoking hot mystery boy: what more could you ask for?"
- Amy Plum, author of the bestselling Die For Me and Until I Die

"Broken is a devastatingly haunting love story where nothing is as it seems – and your heart is not your own."
- Michelle Zink, author of the Prophecy of the Sisters trilogy and A Temptation of Angels

"Darkly romantic, Broken is an intense, beautiful, and intricate story of love that knows no bounds. Even death can't stop it."
- J.A. Souders, author of Renegade (Fall 2012 from Tor Teen)

"Brilliantly dark, creepy and atmospheric, Broken is a love story that will hold you captivated until the stunning conclusion."
- Justina Ireland, author of Vengeance Bound

"Broken contains all the mystery and romance I love in a YA novel. A delicious and haunting read."
- Elana Johnson, author of Possession

"Hauntingly beautiful, achingly romantic, and edge-of-your-seat scary, Broken will keep you up way past your bedtime. I loved this book!"
- Trinity Faegen, author of The Mephisto Covenant series

"Broken is a paranormal YA book which is gorgeously haunting and unabashedly romantic."
-Reader Girls
or
Not Currently Available for Direct Purchase