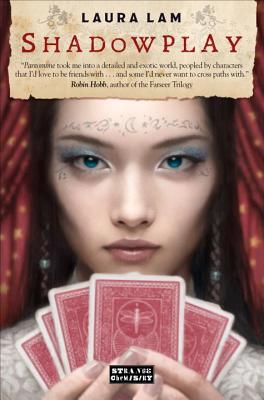 Shadowplay (Paperback)
Strange Chemistry, 9781908844408, 396pp.
Publication Date: January 7, 2014
Other Editions of This Title:
Paperback (3/1/2017)
* Individual store prices may vary.
Description
The circus lies behind Micah Grey in dust and ashes.

He and the white clown, Drystan, take refuge with the once-great magician, Jasper Maske. When Maske agrees to teach them his trade, his embittered rival challenges them to a duel which could decide all of their fates.

People also hunt both Micah and the person he was before the circus–the runaway daughter of a noble family. And Micah discovers there is magic and power in the world, far beyond the card tricks and illusions he's perfecting…

A tale of phantom wings, a clockwork hand, and the delicate unfurling of new love, Shadowplay continues Micah Grey's extraordinary journey.
About the Author
Laura Lam was raised near San Francisco, CA by two former Haight-Ashbury hippies. Both of them encouraged her to finger-paint to her heart's desire, color outside of the lines, and consider the library a second home. This led to an overabundance of daydreams.

She relocated to Scotland to be with her husband, whom she met on the internet when he insulted her taste in books. She almost blocked him but is glad she didn't. At times she misses the sunshine. The author lives in Scotland, UK.
Praise For Shadowplay…
Praise for Laura Lam

Pantomime -- 2014 Rainbow List Selection

"Pantomime by Laura Lam took me to an exotic and detailed world, peopled by characters that I'd love to be friends with...and some I'd never want to cross paths with."
-Robin Hobb, author of the Farseer Trilogy

"Set in a vividly imagined world with wonderful steampunk touches, Pantomimeis a fable-like story as beautifully unique as its main character." 
– Malinda Lo, author of Ash, Huntress, and Adaptation

"Micah is the most wonderful, complex, brave and contemporary teenage hero I've read, facing issues of identity and responsibility that will resound with any reader who has felt like an outsider. Pantomime is loving in its detail but hints at so much scope to come, it feels like the set up for an epic sequel. I raced through this book, desperate to know what happens next. 'Look out behind you' Robin Hobb…"
- Bryony Pearce, author of Angel's Fury and winner of the 2012 Leeds Book Award

"Welcome to a world of shills and showmen, fading tech and circus freaks, where nothing and no-one is what it appears. An absorbing, accomplished debut."
- Elspeth Cooper, author of the Wild Hunt series

"Who hasn't dreamed off running off and joining the circus? Laura Lam's Micah does just that, discovering a world of clowns and acrobats, con men and tricksters, corruption and incompetent doctors, and maybe more about himself. I look forward to more from this author."
- Brian Katcher, author of Almost Perfect and winner of the 2011 Stonewall Children's and Young Adult Literature Award

"In PANTOMIME, Laura Lam has created a world which will take your breath away, and characters you will never want to leave. Enchanting."
 - Lou Morgan, author of Blood and Feathers

"A lyrical, stunningly written debut novel, which set my heart racing with every lift of the trapeze. In Micah we have one of the most original – and likeable – protagonists I've read in a long time. An author to watch, without a doubt."
- Amy McCulloch, author of The Oathbreaker's Shadow 
or
Not Currently Available for Direct Purchase