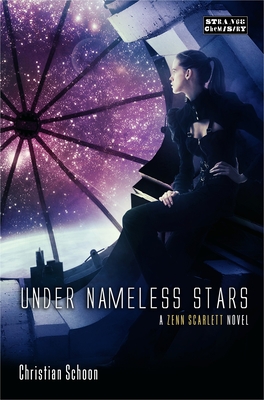 Under Nameless Stars (Paperback)
Strange Chemistry, 9781908844873, 368pp.
Publication Date: April 1, 2014
* Individual store prices may vary.
Description
After barely surviving a plot to destroy her school and its menagerie of alien patients, could things get worse for novice exoveterinarian Zenn Scarlett? Yes, they could: her absent father has been kidnapped.

Desperate to find him, Zenn stows away aboard the Helen of Troy, a starliner powered by one of the immense, dimension-jumping beasts known as Indra. With her is Liam Tucker, a Martian boy who is either very fond of her, very dangerous to her, or both. On the verge of learning the truth about her missing dad, Zenn's quest suddenly catapults her and Liam thousands of light years beyond known space, and into the dark heart of a monstrous conspiracy.
About the Author
Christian Schoon grew up in Minnesota, and worked his way through college in a succession of rock bands before earning his degree from the U of Nebraska-Lincoln School of Journalism. Following a stint as an in-house copywriter/scriptwriter at Walt Disney Studios in Burbank, he supplied freelance copy for the entertainment industry and scriptwriting for live-action and animated TV. Currently, he writes from his 150-year-old farmstead in Iowa which he shares with a fluctuating number of horses (generally less than a dozen, but not always), 30 or so cats, a dog, three ferrets and a surprisingly tolerant wife. The Zenn Scarlett books are his first novels, however he admits to being an unrepentant fan of science fiction and fantasy ever since discovering the tales of Edgar Rice Burroughs in the fifth grade. He can be found at his blog: christianschoon.com
Praise For Under Nameless Stars…
"Christian Schoon knows his xenobiology! ZENN SCARLETT has everything a sci-fi lover craves, from exotic alien life forms to quantum entanglement, all grounded by a stellar YA heroine. Zenn's moxie and determination make this a debut to remember. Highly recommended!"
- Phoebe North, author of Starglass

"Reading Zenn Scarlett is like venturing into a gargantuan alien animal in one of the in-soma pods Zenn uses to provide veterinary care: delightful, bizarre, and occasionally terrifying."
- Mike Mullin, author of ASHFALL

"Many young people want to become veterinarians because they love animals. All future veterinarians will want to read Zenn Scarlett and her adventures with veterinary medicine on alien animals."
- Temple Grandin, author of Animals in Translation
or
Not Currently Available for Direct Purchase