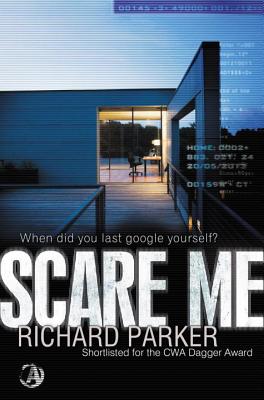 Scare Me (Paperback)
Exhibit A, 9781909223011, 368pp.
Publication Date: April 30, 2013
* Individual store prices may vary.
Description
"When did you last Google yourself?"

Wealthy businessman, Will Frost, gets woken in the middle of the night by an anonymous caller, asking him exactly this.

When Will goes online, he finds a website has been set up in his name, showing photographs of the inside of his home, along with photographs of six houses he's never seen before.

In the first of these strange houses, a gruesome murder has already taken place.
Will is then told that his own family is in mortal danger.

The only way he can keep them safe is to visit each of the houses on the website in person – before the police discover what has happened there.

Seven houses.

Seven gruesome homicides.

Seven chances to save his daughter's life…
About the Author
Richard Parker has been a professional TV writer for twenty-two years and started by submitting material to the BBC. After contributing to a wide variety of TV shows he became a head writer, script editor then producer. His first novel, Stop Me, was shortlisted for the prestigious UK Crime Writers Association John Creasey Dagger Award. He has had two short movies shot "Estranged" and "Sleep Tight" (hitting festivals near you in 2012).

More importantly, he has just finished penning a brand new thriller for publication. He has now moved from London to Salisbury but in no way hates London. He divides his time between reading, writing, cooking and visiting old English pubs. He is currently working on his third novel."
Praise For Scare Me…
"SCARE ME is an engrossing, addictive, and all consuming thriller by an author who looks to have mastered the craft of suspense and heart pounding action. I highly recommend SCARE ME."
-OzNoir, Just A Guy That Likes 2 Read

"A roller coaster ride of thrills. The tension never lets up – do NOT read this at night because you will not go to sleep until the book is finished."
-Cayocosta72 

"The storyline for Scare Me is so well thought out and written. The believable characters facing such heinous but not impossible situations makes for chilling reading."
-Bookshelf Butterfly

"The human connection family—constructed or biological—provides a sharp contrast with the technological connections that bind the characters, test the characters, and threaten to break the characters if the inevitable linkage failures occur."
-Neliza Drew, Criminal Element

"Lock your doors, keep the lights on and plan to stay up late, because this is one very clever scavenger hunt from hell that you won't want to miss!"
-My Bookish Ways 

"Creepy, menacing, tramatic, and full of supense and tension, this book is definitely a keeper. I easily read over half of it in one go and definitely recommend it to fellow thriller readers."
-Notes of Life

"Full of tantaslising twists and turns, this novel keeps you guessing until the very last few pages and then teases you with the potential for more. An utterly fabulous crime novel that will keep you pinned to your seat."
-The Tattooed Book 
or
Not Currently Available for Direct Purchase