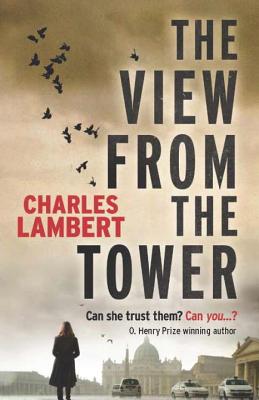 The View From The Tower (Paperback)
Exhibit A, 9781909223677, 352pp.
Publication Date: December 31, 2013
* Individual store prices may vary.
Description
A psychological thriller sure to appeal to fans of William Boyd and John Le Carre...Can she trust them? Can you? Helen is in a hotel room with her lover in Rome, when a gunman murders her husband, a high-level politician, less than a mile away. Helen immediately finds herself both a suspect and suspicious of those around her – including her friends and her husband's family, and her lover, Giacomo, an ex-terrorist with a new wife and a reinvented life. As Helen struggles to understand her husband's death and the extent to which she and the people she knows may have been responsible, she is forced to examine her own past and peel back the years of secrets and lies.

About the Author
CHARLES LAMBERT was born in 1953 and went to Cambridge in 1972. In 1976 he moved to Milan. Currently a university teacher, academic translator and freelance editor, he lives in Fondi, exactly halfway between Rome and Naples. His first novel, Little Monsters, was published in 2008, the same year as his collection of prize-winning stories, The Scent of Cinnamon and Other Stories, won an O Henry prize.
Praise For The View From The Tower…
"...a superb, deeply thought-out book written by an author who recognizes the darkness of the human heart."
– Betty Webb, Mystery Scene Magazine

"A sophisticated literary thriller."
- The Guardian

"Honest, sharp, beautifully written."
- Ann Cleeves, award-winning author of the Shetland series and Vera novels

"A crippling tale of love, loss, redemption, violence, and political intrigue. THE VIEW FROM THE TOWER is a slow burning crime novel that's more about retrospective relationships post death than the mystery surrounding the identity and motives of a killer."
- Just A Guy That Likes To Read

"Another cracking novel from Charles Lambert that transports the reader to Rome, the everyday Rome that often only the locals are 'privileged' to experience…The things I love about Charles' writing are the great style and the little vignettes that pepper the prose, whether it is the nugget of description of Helen and Federico's dream house, seen from their train compartment; or descriptions of that typical italian marble used for flooring which is ".. a sort of mottled marble, like one of those fatty salamis cut into slices and squared off into tiles" (perfect, I can visualise it now!); or the road to Ostia Antica, the Via del Mare with its dappled light and fast cars, and which is deemed to be the most dangerous road in the country. When you read Charles's work, you just KNOW you are in Italy!"
- Trip Fiction

"It's about a murder, and the lead up to and consequences of that act. But it's also about relationships. It's about the parts of ourselves we keep hidden, even from those closest to us."
- Cheap Thrills

"If you are looking for a character-driven story with a political viewpoint then this may well be the book for you to help start this new year off."
- So So Gay

Praise and Reviews for Any Human Face:"a slow-burning, beautifully written crime story that brings to life the Rome that tourists don't see – luckily for them."
- Jake Kerridge, Daily Telegraph

"Immensely impressive… holds you completely enthralled throughout."
- The Bookseller

"Lambert's writing is expressive and finely tuned; he has a flair for characterisation and a sense of place which goes down very well…"
- Sunday Business Post

"It's a wonderful book, beautifully written."
- Euro Crime
or
Not Currently Available for Direct Purchase