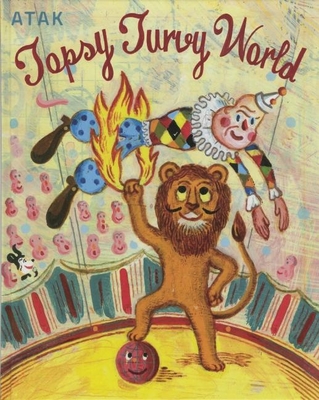 Topsy Turvy World (Hardcover)
Flying Eye Books, 9781909263048, 30pp.
Publication Date: July 2, 2013
* Individual store prices may vary.
Description
There are few things that little children enjoy more than catching grown-ups in a lie. Well, this book is littered with them, turning every general assumption on its head in a completely Topsy Turvy World of blatant falsehoods and conspicuous role reversals. From science and the natural world to time honored children's fairy tales, Atak's book teaches with humor what's right, by highlighting everything wrong in these images as mice chase cats and firemen douse water with flames...

A wordless book with beautiful illustrations on every page illustrated by one of Germany's best known and loved illustrators, Atak.
About the Author
Hans-Georg Barber, who uses the pseudonym Atak, studied visual communication at the Hochschule der Künste in Berlin. In 1989 he co-founded the avantgarde comics group and magazine Renate, and in 1992 his first graphic novel, Atak - The Flowers of Romance, was published. He now lives and works in Berlin and he also holds a Professorship in Illustration at the Kunsthochschule Burg Giebichenstein Halle - an art college in the town of Halle, close to Leipzig in the former East Germany.
Praise For Topsy Turvy World…
Topsy Turvy World is brilliantly conceived, beautifully executed, and not quite like anything else in kids' publishing today.
—BoingBoing

If Salvador Dali made a picture book, it might look like this. In this surreal world, everything is the opposite of what you'd expect.
—School Library Journal

A veteran German illustrator offers even not very attentive viewers a succession of silly switches.
—Kirkus Reviews

Each page feels like a masterpiece.
—Julia Rothman, Book By Its Cover

A fantastical illustrated book where mice chase cats, penguins live in the jungle, cars fly and aeroplanes float! […] This luxuriously varnished book is beautifully drawn by Atak, one of Germany's top illustrators.
—Brickbat Books

[Atak's] paintings are crazy and strange, and kids will have plenty of fun guessing and learning about opposites. This wonderful wordless book will entertain adults just as much as young children and I must admit that I've never seen a book quite like Topsy Turvy World before!
—The Fox Is Black

Topsy Turvy World is a cleverly conceived, somewhat bizarre role reversal wordless picture book by German illustrator Atak. His surreal illustrations are truly a visual feast with their riot of colour across the double-page spreads.
—Outside In World

It will delight a wide range of young people, confounding their expectations of what a picture book can be, encouraging discussion and subtly developing visual literacy. This would be a welcome addition to any bookshelf.
—International Board on Books For Young People

As soon as you pick up this book you know you are not dealing with your average kids book. Atak is a German folksy illustrator and this book is like turning pages of an art piece – each page thickly covered with colour and detail.
—Babyccino Kids
or
Not Currently Available for Direct Purchase