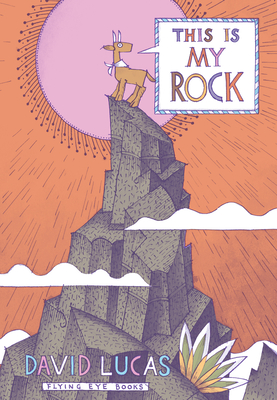 This Is My Rock (Hardcover)
Flying Eye Books, 9781909263505, 32pp.
Publication Date: May 12, 2015
* Individual store prices may vary.
Description
This is my rock! proclaims a young goat. "It's not yours," he bleats at Eagle. "Or yours," he grumbles at Bear. "Nor yours!" he shouts at the other goats. But standing atop a mountain all day and night can be lonely, especially when you have no one else to play with.
With simple wit and beautifully detailed illustrations, David Lucas weaves a tale about sharing and friendship.
About the Author
As an illustrator and writer, David Lucas finds inspiration in the beauty and magic of the natural world. His wonderful fairy stories include Lost in the Toy Museum and The Robot and the Bluebird and have been published by Candlewick Press and Andersen Press. His first book with Flying Eye, A Letter for Bear, was warmly received in both the UK and US, selling out of its first edition within weeks of the print run.
Praise For This Is My Rock…
"...inviting a broader consideration of the ins and outs of ownership than the usual toy-oriented run of "sharing" titles—many of which even "share" the same title: Mine!—this outdoorsy epiphany offers a more peaceable resolution than Jon Klassen's Hat fables. A rocky climb to wisdom."
—Kirkus Reviews

"It's Lucas's illustrations that really sell the story, as well as the goat's stubborn defensiveness. His warm palette, geometric borders, and stylized celestial objects are suggestive of the American Southwest, while his young hero's wide, staring eyes and theatrical body language its anger, regret, and glee."
—Publisher's Weekly

"Lucas's art is stylized and angular, filling the page with a design quality […] in some ways, there is an old fashioned feel to his work, like something from the late 1960s or early 1970s. Using limited language and animated interactions, this is definitely something a little kid can enjoy without the help of a reader, but a reader might make it even more fun."
—Vermicious

"All facets of the art of the picture-book creator are splendidly brought together here, reminding us that simplicity of approach can be as effective as complexity."
—The Irish Times