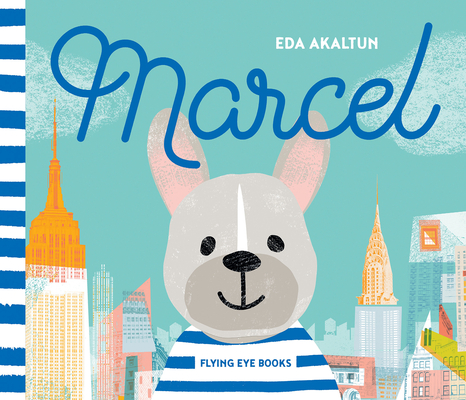 Marcel
Hardcover

* Individual store prices may vary.
Description
Marcel, a French Bulldog, is a New Yorker through and through--he and his human know the best spots, especially in downtown Manhattan. But when a new human suddenly enters their lives at Central Park, they're spending all their time in uptown! Everything is changing and it looks like this new human isn't going anywhere. Why couldn't everything stay as it was? Why did things have to change? Find out what happens between this Frenchie and the new human in his life in a story where change can be good and bring new adventures! This touching picture book is a nice way to help a child understand a parent's new partner or spouse.
Praise For Marcel…
One of Chickadee Lit's Best New Picture Books About New York City!

This is a cute book about a french bulldog with illustrations that show you how big New York is, especially to a small dog. It's a fun read with a likable character.
—The Book Faerie

Marcel is adorable and will win over every reader's heart. […] I highly recommend it to anyone who enjoys beautiful picture books, silly and adorable puppies, or who will be expanding their family dynamic and need an aide to help breach such a sensitive topic.
—The Plot Bunny

Set against a wonderfully chic Manhattan backdrop of hip musicians and natty dressers, author Eda Akaltun uses an artistic mix of photography, decoupage and collage to give this comical dilemma a cool modern aesthetic. Its NYC location gives snapshots of some of the fun activities the city has to offer, from strolls in Central Park to ambling among the dinosaur relics in the American Museum of Natural History, while Marcel's character explores a gamut of emotions from happiness to anger and despair, before reaching a new acceptance of his hitherto unwelcome situation.
—My Little Style File

A love letter to the city of New York.
—Amie's Book Review

This is a wonderful romp around an amazing city. Warm text with a dry, first-person [first-dog!] humour trails alongside cleverly-constructed imagery featuring our darling painted pup, collaged with black and white or hand-coloured photographs, patterns and textures. The result is a truly gorgeous visual journey that balances beautifully with typography.
—Kids' Book Reviews

This book is a heartwarming tale of love an acceptance and I think it is a wonderful premise for a book about introducing a new partner to children and adjusting to big life changes.
—Book Bairn

This book is just adorable, and the little details about the city and its inhabitants are so much fun. Eda Akaltun knocked this debut out of the park, for sure.
—Chickadee Lit, The Best New Picture Books About New York City

Eda's graphic style really gives this book a modern contemporary feel that we haven't seen in picture books of this kind before. Using a combination of collage and photography, the book really brings New York to life for the reader.
—Bookworm Baby

In addition to being an ode to New York, Marcel is a powerful story about adjusting to change. It is the perfect picture book to introduce the idea of a parent dating someone new, which can be very difficult for young ones to understand. This picture book features simple text and lovely, graphic illustrations.
—The Caterpillar Corner

Young children will delight in the gorgeous illustrations of the cute little dog and will learn a lesson about accepting change and new people. I think Marcel would be especially relevant for children who have a parent in a new relationship.
—Bermuda Onion

Eda Akaltun explores family relationships so beautifully. This is the kind of thing we get asked for in the library often, and this will certainly be my go to book in helping children accept and understand change within the family.
—Book Monsters

Eda Akaltun has created a cute lovable character in Marcel and her style of illustration is fantastic.
—Let Them Be Small

This endearing new debut book by author Eda Akaltun is the perfect way to explore complex family relationships. Changes are a part of life and learning how to cope with them is really important.
—North Somerset Teachers' Book Award
Flying Eye Books, 9781909263758, 40pp.
Publication Date: September 20, 2016
About the Author
Eda Akaltun is a New York-based illustrator and printmaker from Istanbul. Prior to her work with Flying Eye, her illustrations can be found in the Nobrow magazine, of which she is a founding contributor.
or
Not Currently Available for Direct Purchase