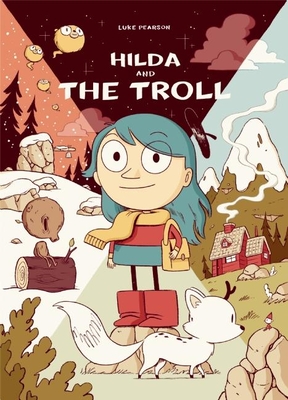 Hilda and the Troll
Book 1 (Hildafolk)
Paperback

* Individual store prices may vary.
Other Editions of This Title:
Paperback (12/1/2015)
Hardcover (9/17/2013)
Description
Hilda Season 1 is now on Netflix!

"Luke Pearson is one of the best cartoonists working today. Hilda is utterly brilliant!"
—Raina Telgemeier, creator of Smile

This brand new paperback edition of Hilda and the Troll offers a fresh chance to read the very first outing in Luke Pearson's ever-popular series of magical Hilda adventures.

Hilda can never sit still for long without setting off on another adventure. She can't resist exploring her enchanting world—a place where trolls walk, crows speak, and mountains move. The magic and folklore of the wild, windswept North come alive in this book about an adventurous little girl and her habit of befriending anything, no matter how curious it might seem.

While on an expedition to illustrate the magical creatures of the mountains around her home, Hilda spots a mountain troll. As the blue-haired explorer sits and sketches, she slowly starts to nod off. By the time she wakes up, the troll has totally disappeared and, even worse, Hilda is lost in a snowstorm. On her way home, Hilda befriends a lonely wooden man, and narrowly avoids getting squashed by a lost giant.
Praise For Hilda and the Troll: Book 1 (Hildafolk)…
Hilda is now on Netflix! Season 2 coming soon!

"Luke Pearson is one of the best cartoonists working today. Hilda is utterly brilliant!"
—Raina Telgemeier, creator of Smile

"Plain smart and moving. John Stanley's Little Lulu meets Miyazaki."
—Guillermo Del Toro

"Luke Pearson's Hilda stories are beloved in our house, and they will surely be enjoyed by audiences for many years to come."
 —Kazu Kibuishi, creator of Amulet

"In Hilda, Luke Pearson has created a truly odd and amazingly beautiful world—Stunningly personal and original. I am in awe of his imagination. He is a real inspiration."
—Mike Mignola, creator of Hellboy

"Pearson's utter lack of pretension keeps Hilda feeling fresh, while his reading of folktales and Tove Jansson's Moomin series embeds Hilda in the long history of children's stories. […] Hilda's dilemmas, while fantastic, also feel real […] Pearson has found a lovely new way to dramatize childhood demons, while also making you long for your own cruise down the fjords."
—The New Yorker

"Hilda and the Troll tells the story of an artistic Scandinavian girl as she explores the unknown wilderness around her house, encountering a blue fox with antlers, the mysterious 'wood man,' and (you guessed it!) a troll. The art is as whimsical as the protagonist, and the bright colors enhance this comic book's magical-realistic effect." 
—The Horn Book Review

"A master of mood-enhancing colors, Pearson nudges the story from vivid to haunting at a pen-stroke, ending with a book that is vibrant delight with just an edge of spine-tingling danger. A really great story for ages six-and-up, and anyone else who thinks comics are best read with flashlights under the covers."
—Comics Alliance

"Pearson is a rising star." 
—New Yorker
Flying Eye Books, 9781909263789, 40pp.
Publication Date: December 1, 2015
About the Author
Luke Pearson is the artist and writer of the Hilda series of graphic novels. He has fast become one of the leading talents of the United Kingdom and United States comics scene, garnering rave reviews from the New York Times and the School Library Journal. He was the winner of the Young People's Comic category at the British Comic Award in 2012, and he has been nominated for the Eisner Award's Best Publication for Kids and Best Writer/Artist in 2013. He has recently written and storyboarded multiple episodes of the cult classic show Adventure Time. He lives in Bristol, United Kingdom.