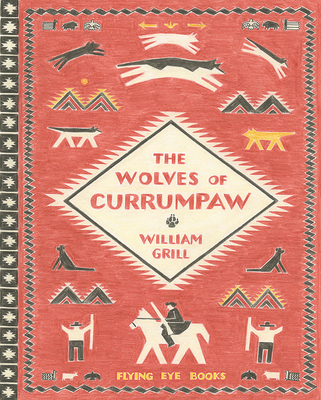 The Wolves of Currumpaw
Hardcover

* Individual store prices may vary.
Description
The Wolves of Currumpaw is a beautifully illustrated modern re-telling of Ernest Thompson Seton's epic wilderness drama Lobo, the King of Currumpaw, originally published in 1898. Set in the dying days of the old west, Seton's drama unfolds in the vast planes of New Mexico, at a time when man's relationship with nature was often marked by exploitations and misunderstanding. This is the first graphic adaptation of a massively influential piece of writing by one of the men who went on to form the Boy Scouts of America.
Praise For The Wolves of Currumpaw…
A JUNIOR LIBRARY GUILD SELECTION
ONE OF The Guardian'S BEST CHILDREN'S BOOKS OF 2016
ONE OF THE IRISH TIMES' BEST PICTURE BOOKS OF 2016
ONE OF Paste Magazine'S BEST KIDS COMICS OF 2016

A powerful, cinematic work of naturalistic fiction that deftly outlines the importance of respecting nature.
—Publisher's Weekly, STARRED REVIEW

Grill has created a powerful picture book that is certain to provoke feelings of empathy for the regal Lobo and Blanca.
—The New York Times

Breathtaking illustrated pages [...] Mr. Grill uses colored pencils and perspective pulled well back—to reveal men and animals as vanishingly small when set against the beautiful vastness of the natural world.
—The Wall Street Journal

A magnificent large-scale picture book, The Wolves of Currumpaw gives narrative non-fiction a new dimension. […] The story is deeply moving, and Grill ends by linking Seton's tale to the history of conservation of wildlife and its great importance today.
—The Guardian, The Best Children's Books of 2016

William Grill brilliantly evokes a landscape inhabited by wolves in his narrative non-fiction The Wolves of Currumpaw.
—The Irish Times, The Best Picture Books of 2016

An artful, thought-provoking adaptation sure to inspire budding conservationists.
—Booklist

The winner of the 2015 Kate Greenaway Medal offers an atmospheric retelling of a 19th-century tale that helped to spark the wildlife conservation movement in this country. […] the illustrations convey an intensity of feeling in keeping with the profound way the experience changed at least one man's life.
—Kirkus Reviews

a story both disquieting and redemptive, emblematic of the era's problematic relationship with the natural world and central to the evolution of the wildlife conservation movement over the century that followed it. […] an essential reminder that we can't reasonably judge one era by the moral standards of another; that, above all, so many of our ethical principles have emerged from the disquietude of their opposite — a sentiment echoed in the contrast between Grill's soft, sensitive illustrations and the brutality of the killings, both by the wolves and of the wolves.
—Brain Pickings

Based on Seton's book, Wild Animals I Have Known, this children's storybook is educational and appealing for young ones and the adults who will enjoy reading it with them. […] The Wolves of Currumpaw will surely charm readers as Lobo charmed Seton.
—Historical Novel Society

Beautifully illustrated […] Grill's stunning colored pencil drawings enhance and extend his modern retelling of Seton's drama, Lobo, the King of Currumpaw, originally published in 1898.
—OmniLibros

Like William Grill's other picture book, Shackleton's Journey, Wolves is beautifully illustrated on thick textured paper with colored pencils. Wolves [...] is powerful, told as much by Grill's narrative as it is by his illustrations. [...] I look forward to seeing what he brings us next.
—Wink

In his follow-up to the beautiful Shackleton's Journey, William Grill and his colored pencils tackle the story of Lobo king wolf of the Currumpaw valley and the men who tried to hunt him in the 1880's. The text is compassionate yet honest about the events, telling the reader what happened and why it was harmful. But, being William Grill, it's the dream-like art that shines in his burning red brown deserts and sweeping blue skies. It might have felt like an age since a new project by Grill (though it's only been two years) but Wolves is worth every moment of that wait.
—Amy Brabenec, Brookline Booksmith

This is a lovely book which is sure to win many hearts.
—Nicola Mansfield, Back To Books

What makes this book brilliant – a bar-smasher – is the way Grill has blended and merged different genres to create something that is uniquely his own. Fact and fiction, word and picture become one. It's a book full of wisdom – it is beyond categorisation and beyond compare.
—A Bookish Life

This is a lovely book which is sure to win many hearts.
—It's All Comic To Me
Flying Eye Books, 9781909263833, 80pp.
Publication Date: July 12, 2016
About the Author
William Grill recently graduated from University College Falmouth and currently works in London as a freelance illustrator. He works in predominately in colored pencil, and has worked for a variety of clients such as Harrods, The New York Times, Shelter and NOBROW. William draws most of his inspiration from looking closely at what's around him, and from a young age has maintained a keen interest in dogs and the outdoors.