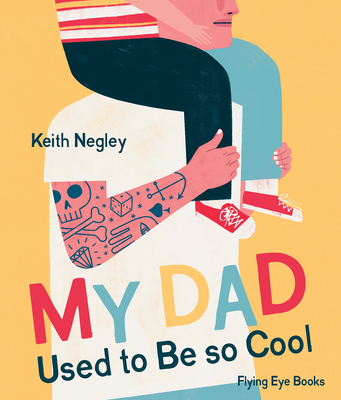 My Dad Used To Be So Cool
Hardcover

* Individual store prices may vary.
Description
Keith Negley's playful and emotional art tells this story of a new father who is no longer the cool guy he once was. He looks back wistfully on his crazy times playing in a band, riding a motorcycle, and getting tattoos. Those days may be behind him, but his young son still thinks he's the coolest guy in the world.
Praise For My Dad Used To Be So Cool…
Negley is carving out a niche exploring 21st-century masculinity issues for little dudes, in sincere and graphically sophisticated picture books that design-conscious parents will be happy to keep around the house.
—The New York Times

Negley's punchy graphics bring real emotion to a story that's sensitive with just a bit of an edge [...]
—Publisher's Weekly, STARRED REVIEW

It's very sweet—without ever being too saccharine about it.
—Slate, The Best Children's Books for Father's Day

The brief, succinct text conveys — with just the right amount of humour — a child's amazement at his dad's life pre-fatherhood, and the wonderful art does a masterful job of expressing both that humour and the unspoken father-son bond.
—Montreal Gazette

A sweet little story about father and son, while also serving as a wink and a nod to parents whose party days are behind them.
—The Globe and Mail

Negley perfectly demonstrates the sacrifices a parent makes for their child, but how beautiful those sacrifices really are. […]This is a truly heart-warming tale and I would strongly recommend that not only children read this book but adults as well. The story is a solid reminder to appreciate our parents and if you are a parent, congratulate yourself because you are awesome.
—BoingBoing

When I first read this book, I thought, finally--a picture book other dudes can purchase for their friends on the way to becoming new fathers. The perfect baby shower gift for the men and women in your lives with a self-deprecating sense of humor and an inward cringe every time they catch glimpses of their Harley gathering dust next to their minivan.
—Jill Saginario, Papercuts J.P.

As it turns out, it doesn't matter if you wear socks with sandals, because if your kid thinks that you're cool, then you're cool. It's everyone else that thinks you're a giant dork.
—Fatherly, The Best Kid's Books About Fathers in 2016

With a striking graphical design, surprising fold-out spreads and an almost vintage-inspired palette, there's not a lot you won't enjoy about this fresh and original story.
—Picture Books Blogger

Negley is flawless at what he does: Illustrations filled with big, bold blocks of colour accompanying stories meant to depict a 21st century ideal of masculinity and fatherhood. He doesn't do bumbling fathers. He doesn't do emotional unavailability. He does dads who love their kids and men who feel, and thank God for it.
—Kinderlit Canada

A richly warm depiction of the modern father-son relationship that avoids over-sentimentality with its clever ring of truth that brings a wry smile.
—My Little Style File
Flying Eye Books, 9781909263949, 32pp.
Publication Date: July 5, 2016
About the Author
Keith Negley is an award-winning editorial illustrator with a penchant for emotionally driven illustration. He's been published in a wide range of major newspapers and national magazines, and is a frequent contributor to the New York Times and New Yorker. He lives in the mountains of Bellingham, Washington, surrounded by rain forests and giant spiders. This is his second book for Flying Eye, following Tough Guys Have Feelings Too!