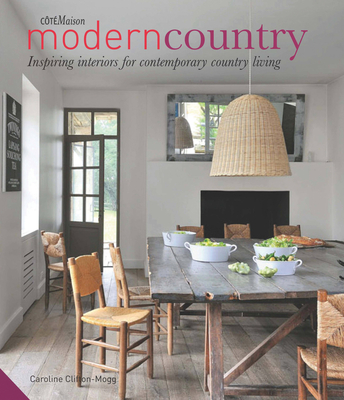 Modern Country (Hardcover)
Inspiring Interiors for Contemporary Country Living
Jacqui Small, 9781909342194, 224pp.
Publication Date: October 1, 2014
* Individual store prices may vary.
Description
A stunning collection of some of the most exciting and interesting examples of the contemporary in French interior design, exploring homes in the mountains, by the sea, and in deepest parts of the countryside. Containing rarely seen images from the exclusive Côté Maison magazines, this sumptuous book brings together homes that exemplify the very best in contemporary country style – perennially desirable and effortlessly attainable.

Country living has long been associated with a relaxed, informal way of life and a sense of tradition. This strong appreciation of rural traditions does not mean, however, that all country homes are relics of the past, set in decorative aspic. Contemporary solutions and innovative ideas work equally well when old spaces are given over to new uses, converted, renovated or just revived. Presenting some of the most exciting examples of the contemporary interior design, Modern Country is full of inspiration on how to achieve that highly desirable ideal of comfortable country living combined with the clean lines and edited design of today.

â??The book considers the appeal of contemporary rural havens, mountain retreats and coastal escapes and looks at agricultural conversions, country house renovations and new buildings, as well as the use of different materials, such as stone, brick and glass. The final part of the book is dedicated to different living spaces in the home that reflect the warm pace of life in the country while being resolutely modern. 
About the Author
Caroline Clifton-Mogg is a writer and journalist who specialises in interior design, antiques and gardens. She is the author of many books, including The White Home, China and Glass, The Curtain Design Sourcebook, Decorating with Antiques, Textile Style and A Passion for Collecting, and writes regularly for a number of magazines and newspapers. She lives in London.
Praise For Modern Country: Inspiring Interiors for Contemporary Country Living…
'An inspirational journey from mountain retreats and renovated properties to coastal boltholes and secluded rustic cottages.'
â??An inspirational journey from mountain retreats and renovated properties to coastal boltholes and secluded rustic cottages.â??
'If you're looking for inspiring, innovative ways to combine classic country style with Contemporary living, then delve into Modern Country.'
â??Amazing interiors and homes. The author offers decor advice alongside inspirational images for anyone designing a new country home, or renovating an existing building.â??
'This is one for the coffee table. Modern Country by journalist Caroline Clifton-Mogg is wholeheartedly a breath of fresh air. Finally someone has taken the outdated country look and shown me something I can get onboard with.'
'This is one for the coffee table. Modern Country by journalist Caroline Clifton-Mogg is wholeheartedly a breath of fresh air. Finally someone has taken the outdated country look and shown me something I can get onboard with.'
'Amazing interiors and homes. The author offers decor advice alongside inspirational images for anyone designing a new country home, or renovating an existing building.'
or
Not Currently Available for Direct Purchase