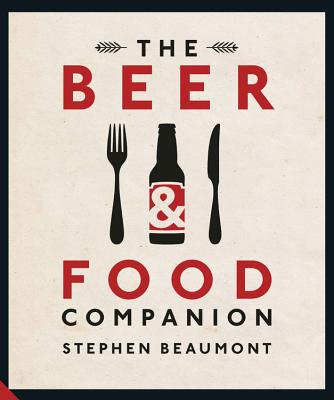 The Beer and Food Companion (Hardcover)
Jacqui Small, 9781909342996, 224pp.
Publication Date: October 15, 2015
* Individual store prices may vary.
Description
The Beer and Food Companion is set to become a classic reference for anyone wishing to pair beer and food, to cook with beer or to discover the delights of both the traditional and modern art of the beer sommelier. Beer has been drunk with food for thousands of years yet only now is it being appreciated as the perfect companion to food. It is even better than wine for pairing with cheese, for example. Tracing the history of beer and food matching, this book educates your palate to recognise the characteristics of a flavoursome beer, with delicious recipes that allow you to cook, pair and appreciate your ale at a whole new level.
Profiles of key chefs, restaurateurs, beer experts, beer sommeliers and cicerones from around the world zone in on the new and exciting world of beer and food matching, including London's Quilon, Restobieres in Brussels and Higgins Restaurant in Portland, Oregon. Charts for Beer & Food and Food & Beer pairing provide at-a-glance perfect matches for easy reference when you are sourcing beer.
With expert knowledge on the art of marrying flavour and cooking with beer you will quickly come to recognise the rich and rewarding combination of porter and chocolate desserts, the delicate counterbalance of a wheat beer with seafood, or the pleasing combination of a hoppy pale ale with a mild curry.
About the Author
STEPHEN BEAUMONT is an author and journalist who has been writing about beer and food for over 20 years. Based in Toronto, Canada, Stephen has written for a very wide range of publications, from the International Herald Tribune to Wine Enthusiast Magazine. He is co-author, with Tim Webb, of the bestselling World Atlas of Beer and the Pocket Beer Book. He has also written, co-written or contributed to 10 books. He blogs at worldofbeer.wordpress.com.
Praise For The Beer and Food Companion…
"a useful addition to the kitchen."
"... Stephen Beaumont's superb offering �¿ it is brimming with all sorts of information and morsels on this marvellous drink."
â??a great book for the beer-swilling, budding chefâ??
'Stephen Beaumont is one of the most incisive, elegant and satisfying writers on beer and food in the English language'
"Beer is back on the table. In this sumptuous feast of a book, Stephen Beaumont shows that in many countries restaurants as well as pubs and bars now offer beer and food pairings as naturally as they do matches for wine and food."
â??Really rather goodâ?¿ Stephen Beaumont has created a well researched and well written book that is a must for people who are beginning to discover what beer can really be and will make a rather nice little present for the beer geek in your life to add to their libraryâ??
"What a great gift this book would make for the beer lover in your life. ... It's really quite fascinating, even for those who aren't connoisseurs."
"This beautifully produced book by Canadian writer Stephen Beaumont covers everything you could ever need to know when beer and food intersect. Whether that is from a historial perspective or a look at the Japanese Izakaya. There are profiles of beer personalities, from chefs to brewers, pairing tips destination guides and recipes. It's a must-buy book."
â??it is an authoritative exploration of the phenomenon of beer and food matchingâ?
â??... Stephen Beaumontâ??s superb offering â?¿ it is brimming with all sorts of information and morsels on this marvellous drink.â?
"a useful addition to the kitchen."
'Stephen Beaumont is one of the most incisive, elegant and satisfying writers on beer and food in the English language'
or
Not Currently Available for Direct Purchase