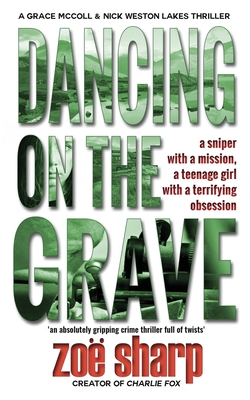 Dancing on the Grave
CSI Grace McColl & Detective Nick Weston Lakes crime thriller Book 1
Paperback

* Individual store prices may vary.
Description
In one of the most beautiful corners of England something very ugly is about to take place.
A sniper with a mission...
a young cop with nothing to lose...
a CSI with everything to prove...
a teenage girl with a terrifying obsession...
There's a killer on the loose in the Lake District, and the calm of an English summer is shattered.
For newly qualified Crime Scene Investigator Grace McColl, it's both the start of a nightmare and the chance to prove herself after a mistake that cost a life.
For Detective Constable Nick Weston, recently transferred from London, it's an opportunity to recover his nerve after a disastrous undercover operation left him for dead.
And for a lonely, loveless teenage girl, Edith, it's the start of a twisted fantasy--one she never dreamed might come true.
Formerly published as a standalone novel, this self-contained story is now the first in a three-book series. Book 2, BONES IN THE RIVER is published May 2020.
Praise for DANCING ON THE GRAVE and Zo Sharp
"Dancing On The Grave is a dark, tense read that caught me off guard. The author takes us on an exhilarating ride full of twists and turns that had me clinging on to every word. Brilliant book and highly recommend it." Sarah Hardy, By The Letter Book Reviews
"The quality of Sharp's writing and the frequently changing points of view, all clearly contained within separate chapters, drive the story on at a relentless pace... Dancing On The Grave is a thriller that delivers on all levels. I found it impossible to walk away until I knew the end of the story." Linda Wilson, Crime Review
"No one writes this kind of book better than Zo Sharp. If you haven't read one of her books before, the only question is 'why not?'" Ted Hertel Jr, Deadly Pleasures Mystery Magazine
"This book is the perfect place to start if Ms. Sharp is a new author to you... The first chapter grabs you immediately, and you suddenly find yourself hooked." Sara Weiss, Literal Addiction
"Ooooooh-eeeee What an incredible treat it was to read this action-packed thriller Set in Cumbria/the Lake District, the reader is taken on a whirlwind ride of retribution, fear, manipulation, vulnerability, conflict, truth, mental health issues, vengeance, lost souls and the search for the truth. I bloody LOVED it " Noelle Holten, Crime Book Junkie
"This is a dark drama but a highly compelling one, unexpected, beautifully done and intelligently plotted." Liz Barnsley, Liz Loves Books
Reader reviews:
"One of those books which you read with increasing disbelief, thinking to yourself, I REALLY WISH I HAD WRITTEN THAT "
"I hugely recommend this. If you're off on your holidays it's the perfect, action-packed page-turner."
"A fresh take on the police procedural with a lot of keen observations."
"A brilliant yarn."
"I read books largely for their characters and this is what kept me turning the pages with this one (I read it in one night) and also what puts it a cut above your usual."
"The landscape is almost a character in its own right."
"The story moves at a cracking pace and the two main characters are supported by an impressive cast, all of whom felt fleshed out."
"Highly recommended "
Zace Ltd, 9781909344662, 464pp.
Publication Date: March 7, 2020