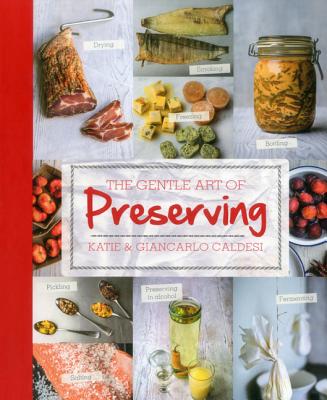 The Gentle Art of Preserving (Hardcover)
Kyle Cathie Limited, 9781909487086, 304pp.
Publication Date: June 7, 2014
* Individual store prices may vary.
Description
The growing popularity of vegetable gardening and buying locally grown produce has sparked an increase in home food preservation, such as canning, freezing, and drying.Join Katie and GiancarloCaldesion their two year-long journey discoveringdifferent methods of conserving food, as theycombine traditional tried-and-tested preservingtechniques with a thoroughly modernperspective, from smoking fish in Scotland to dryingchiles in Sri Lanka.Learn how to cure Italian charcuterie, make sausages, brine a chicken or prepare yourown delicious smoked salmon and mackerel.Discover practical tips such as freezingspice cubes, stocks and sauces to makingflavored oils and butters to provide tastyshortcuts for quick meals.Create summery cordials, sun-drytomatoes, ferment homemade yogurt and bakesourdough from your own starter. With over 200 recipes and color photographs; endless basic guides, strategies, and tips; sources and a bibliography, thisfascinating compendium will be your go-to accessible andauthoritative guide.
or
Not Currently Available for Direct Purchase