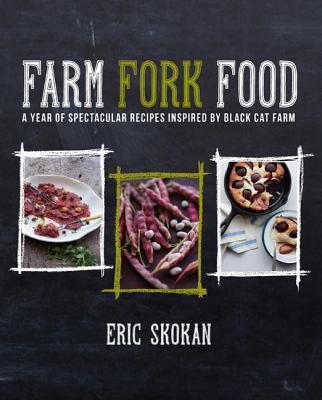 Farm, Fork, Food (Hardcover)
A Year of Spectacular Recipes Inspired by Black Cat Farm
Kyle Cathie Limited, 9781909487123, 240pp.
Publication Date: October 23, 2014
* Individual store prices may vary.
Description
The closer a taste is nature, the richer its flavor and the deeper its meaning. Knowing this and the power of a setting to create great food memories, Chef Eric and Jill Skokan created the 130-acre Black Cat Farm that supplies the bounty of their two popular restaurants Bramble & Hare and Black Cat Bistro, a booth at the Boulder farmers' market, CSA families, and, of course, their old farmhouse, Bramble Hill. On their farm, the Skokan family raises Highland cattle, Mulefoot pigs, heritage sheep, free-range chickens, heritage turkeys and Toulouse geese. During the day they care for the nearly 400 animals and 250 varieties of vegetables and fruits grown at the farm. In the afternoon Eric and his farm team traverse through the fields to harvest through the rows to stock the restaurants with just-picked produce at the height of its flavor to create his award-winning cuisine. And, every Saturday morning you can find Eric at the farmer's market doling out cooking tips and vegetables alike. The huge variety of produce and meats grown on their farm allows Chef Eric a limitless palate of flavors, colors, and textures from which to build his award-winning cuisine, which is even more enhanced by his ability to forage wild produce like mushrooms, juniper and wild plums that root his dishes in the flavors unique to the Front Range region. In Farm, Fork, Food, he invites readers to partake in the immediacy and excitement of vegetables just out of the garden and fruit right off the branch. His inspirational recipes, like Gnocchi with Braised Beef Short Ribs, Cardoon and Kale; Latke with Smoked Trout, Winter Watercress and Horseradish; and Basil Ice Cream with Summer Berries always have a sense of discovery and delight. Beautifully photographed by Con Poulos, Farm, Fork, Food will inspire every cook to visit their local farmers' market and start cooking Chef Eric's amazing yet simple recipes.
About the Author
Eric Skokan is the award-winning chef/owner of Black Cat Bistro and Bramble & Hare in Boulder, Colorado. He and his wife own a 130-acre organic farm in nearby Longmont, where they live with nearly 400 animals and their 4 children. Visit him online at http: //brambleandhare.com/blog.
or
Not Currently Available for Direct Purchase