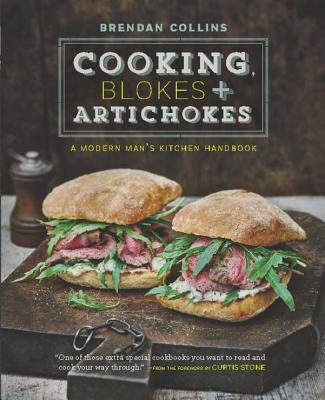 Cooking, Blokes & Artichokes (Hardcover)
A Modern Man's Kitchen Handbook
Kyle Cathie Limited, 9781909487338, 224pp.
Publication Date: April 7, 2016
* Individual store prices may vary.
Description
The debut cookbook from critically acclaimed chef Brendan Collins with 100 recipes to impress your mates Are you looking for tasty, no bullshit food? You've come to the right place. Cooking, Blokes & Artichokes is for every bloke searching for inspiration and a solid guide to good cooking. Brendan's 100 straightforward recipes can help any modern man broaden his kitchen skills--from making proper vinaigrette to the foolproof technique for braising meat. Brendan covers everything, from super simple side dishes, such as Roasted Winter Vegetables and Burrata Salad, to game day nibbles such as Spiced Lamb Shanks, Homemade Pita Breads, and Spiced Yogurt Dip, and ending with desserts; the book wouldn't be complete without his famous Sticky Toffee Pudding. Sometimes it's about a quick meal thrown together on the fly--mushrooms on toast, or a lamb burger charred up nicely on the grill--but when you have some time to tinker, Brendan will show you how to roast a pig's head to glistening, golden perfection, cure your own duck prosciutto, and put up jars of silky, savory caramelized onion compote for a crazy flavor boost. Over time, you'll grow into a solid, intuitive cook--just wait and see. So go ahead; roll up your sleeves and get cooking.
About the Author
Brendan Collins is executive chef of Birch, Larry's, and The Corner Door in Los Angeles. He has appeared on Spike TV's "Bar Rescue" and MTV's "House of Food," as well as The Esquire Channel's "Knife Fight."Drawing on his training in butchery and belief in using the whole animal, Collins is dedicated to using only the best ingredients and cooking food that he likes to eat. He worked at several prominent restaurants in London, including those of Marco Pierre White, before moving to L.A. He combines impeccable French technique, seasonal California ingredients, and his inimitable "British lad" attitude to his cuisine.
or
Not Currently Available for Direct Purchase