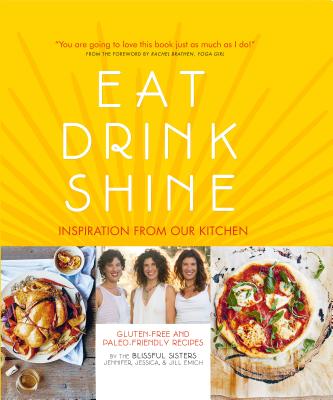 Eat Drink Shine
Inspiration from Our Kitchen: Gluten-free and Paleo-friendly Recipes by the Blissful Sisters
Hardcover

* Individual store prices may vary.
Kyle Books, 9781909487369
Publication Date: May 5, 2016
About the Author
- Jessica Emich is the first-born and she doesn't let anyone forget it. She likes to pave the way and sets her expectations high in all her endeavors. And ... she pulls it off. She graduated from University of Nevada Las Vegas (UNLV) with a hotel & restaurant management degree as well as graduating from the California Culinary Academy in San Francisco. She was the owner and Head Chef at Trilogy for its duration and has since gotten her Masters Degree in Holistic Nutrition as well as a certification in Metabolic Typing. She and Nelson Schwab are the masterminds behind the menu at Shine. She brings much expertise in the science behind her food preparation. It is her passion to nourish people in a way that makes them feel really good, and she is thrilled to be sharing her talents at Shine. Jessica is also a rockin' mom to her daughter Sofie and new addition Amelie. Jessica is married to Marek Skrovranek, a wonderful Czech man who is an amazing father and has been a big advocate for Shine in the way of design, and build out. - Jill Emich, the middle sister of the trio. She is the co-owner/ manager of Shine and director of events, as well as the bar manager. She graduated from UNLV with a degree in hotel & restaurant management and also attended the California Culinary Academy in San Francisco. She was the owner, talent buyer and bar manager at Trilogy for its duration supporting local and national music and performance acts. Jill enjoys bringing fun and interesting music and programs to Shine that encourage people to dance, play, explore and dig deeper into their personal beings. She loves dance and movement herself and has a gift of staying positive (even in the most trying situations) and loves to connect with others. She also is Jennifer's sidekick in helping run the front of the house and is always eager to lend a helping hand (or her two cents) to the heart of the place, the kitchen. - Jennifer Emich was the last-born, but definitely not least. She is a strong, energetic spirit. She also graduated from UNLV with a degree in Elementary Education, which has helped her work with all sorts of people (and their inner child). She says it like it is in a clear, yet loving way. She is a great listener and she is really good at keeping the Front of the House staff humming. Like she did at Trilogy, she is co-owner and manages the Front-of-the-House operations, and does the day-to-day books and accounting. Jennifer really enjoys connecting with the guests and getting to know what makes them smile (and coming back). She will most likely be the first person to greet you when you walk in the door. Jennifer is married to Eric "Eck" Cohen, a frenetic being from Connecticut with an enormous heart. He has been a powerful loving force in Jennifer's life throughout her journey in healing and strength. He has been instrumental in helping with the marketing and social media aspects of Shine.
or
Not Currently Available for Direct Purchase