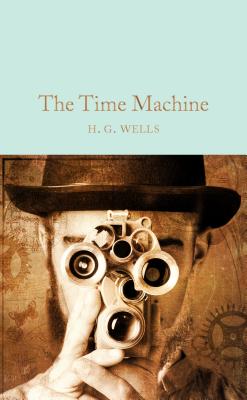 The Time Machine (Hardcover)
Macmillan Collector's Library, 9781909621534, 160pp.
Publication Date: January 24, 2017
Other Editions of This Title:
Paperback (12/9/2014)
Paperback (12/22/2015)
Paperback (9/1/2004)
Paperback (4/15/2016)
Paperback (7/15/2011)
Paperback (6/19/2012)
Paperback (10/7/2013)
Paperback (3/25/2016)
Paperback (3/21/2014)
Paperback (6/9/2010)
Paperback (3/30/2016)
Paperback (11/27/2012)
Paperback (1/30/2013)
Paperback (12/25/2013)
Paperback (4/12/2018)
Paperback (2/15/2014)
Paperback (2/23/2016)
Paperback (3/27/2008)
Paperback (1/5/2013)
* Individual store prices may vary.
Description
Designed to appeal to the book lover, the Macmillan Collector's Library is a series of beautifully bound pocket-sized gift editions of much loved classic titles. Bound in real cloth, printed on high quality paper, and featuring ribbon markers and gilt edges, Macmillan Collector's Library are books to love and treasure.
'He succeeds in placing before the reader a vision of the world in cosmic time' Norman Nicholson
The Time Traveller knew that Time was only a kind of Space. The fantastic story of his adventures in a machine which could travel in any direction of Space and Time has captured the imagination of millions.
H. G. Wells, one of the giants of twentieth-century literature, in this brilliant forerunner of today's SF did something which had never been done before and which has never been done since with the same vitality and bright inventiveness. With an introduction by Mark Bould.
About the Author
Herbert George Wells (1866-1946) wrote the science fiction classics The Time Machine, The Island of Dr. Moreau, and The War of the Worlds, and has often been heralded as a father of modern science fiction.