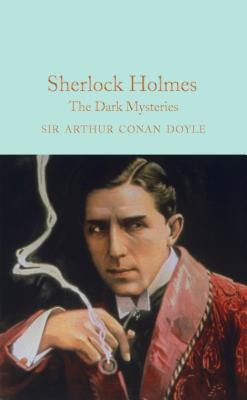 Sherlock Holmes
The Dark Mysteries
Hardcover

* Individual store prices may vary.
Description
Designed to appeal to the book lover, the Macmillan Collector's Library is a series of beautifully bound pocket-sized gift editions of much loved classic titles. Bound in real cloth, printed on high quality paper, and featuring ribbon markers and gilt edges, Macmillan Collector's Library are books to love and treasure.

Sir Arthur Conan Doyle had a lasting interest in the supernatural, and in Sherlock Holmes: The Dark Mysteries, Sherlock Holmes expert David Stuart Davies has selected the Holmes and Watson cases that best reflect this. The first is that classic novella, the terrifying The Hound of the Baskervilles, followed by nine Gothic adventures: The Sussex Vampire, The Creeping Man, Shoscombe Old Place, The Disappearance of Lady Frances Carfax, The Veiled Lodger, The Devil's Foot, The Blanched Soldier, and The Cardboard Box, all with the original illustrations.

Illustrated by Sidney Paget and others, the illustrators of the original stories in The Strand magazine.

With an Introduction by David Stuart Davies, writer and editor.

Stories included in this edition:
The Hound of the Baskervilles
The Sussex Vampire
The Creeping Man
The Adventure of Shoscombe Old Place
The Disappearance of Lady Frances Carfax
The Veiled Lodger
The Devil's Foot
The Cardboard Box
Macmillan Collector's Library, 9781909621794, 464pp.
Publication Date: August 23, 2016
About the Author
Arthur Conan Doyle (1859-1930) studied medicine at Edinburgh University, but ultimately gave up medicine to pursue a career in writing both fiction and non-fiction. His iconic sleuths, Holmes and Watson, have entertained generations of readers.

An internationally recognized expert on Sherlock Holmes and Conan Doyle, David Stuart Davies is the editor of the crime fiction magazine Sherlock and the author of several books on Sherlock Holmes. He also edits the Crime Writers' Association's monthly Red Herrings magazine. Forests of the Night was his first Johnny Hawke novel. He lives in West Yorkshire, England.