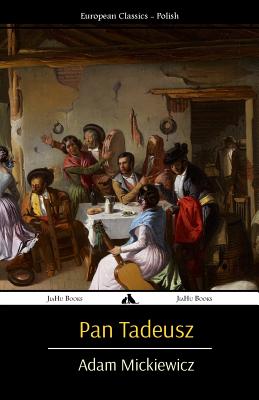 Pan Tadeusz (Paperback)
Jiahu Books, 9781909669512, 414pp.
Publication Date: September 29, 2013
Other Editions of This Title:
Paperback (12/15/1962)
Paperback, Polish (1/20/2018)
Paperback (4/30/2019)
Paperback (10/7/2015)
Paperback (4/26/2011)
Hardcover (8/22/2015)
Hardcover (4/3/2018)
Paperback (9/25/2018)
Paperback (1/1/1992)
* Individual store prices may vary.
Description
Pan Tadeusz is an epic poem by the Polish poet, writer and philosopher Adam Mickiewicz. The book was first published in June 1834 in Paris, and is considered by many to be the last great epic poem in European literature. The story takes place over the course of five days in 1811 and one day in 1812, at a time in history, when Poland-Lithuania had already been divided between the armies of Russia, Prussia, and Austria and erased from the political map of Europe. Pan Tadeusz recounts the story of two feuding noble families, and the love between Tadeusz Soplica of one family, and Zosia of the other. Another sub-plot involves a spontaneous revolt of the local inhabitants against the occupying Russian garrison.