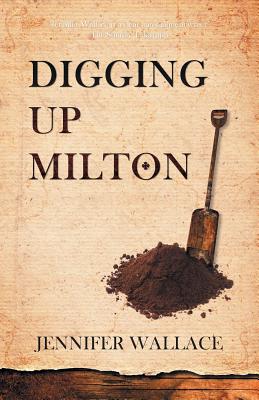 Digging Up Milton (Paperback)
Cillian Press Limited, 9781909776104, 210pp.
Publication Date: October 1, 2015
* Individual store prices may vary.
Description
London, 1790:
John Milton, one of Britain's greatest poets, has been dead for over a century. Lizzie Grant, gravedigger, wife and entrepreneur, is very much alive.
When Milton's bones surface at St Giles' Church in London's Cripplegate, illiterate yet enterprising Lizzie seizes the opportunity to make her mark on history. But Lizzie hasn't accounted for Milton's power - as a hero, a revolutionary, and a literary genius. Amongst circulating body parts and surrounded by hypocrisy, Lizzie's dreams start to unravel.
In 1790 it seems a lot of people want a piece of Milton.
This darkly humorous novel vividly captures the boisterous, bawdy life of the 18th century London streets in a tale of greed, guilt and a paradise lost.

* * *
'Jennifer Wallace is a clear and eloquent writer'
- The Sunday Telegraph * * *
Jennifer Wallace grew up in London and Edinburgh and studied Classics and English at Cambridge University. She now teaches English Literature there, specialising in the Romantic poets and in tragic drama. Research for some of her previous books - on Romantic Hellenism and on the archaeological imagination - has led her to follow Byron's footsteps through the Pindus mountains on the Albanian/Greek border and to swim into a cave in the Belize jungle, in search of the Mayan entrance to the underworld. She has worked as a freelance journalist for British and American publications on stories ranging from Israel-Palestine to tribal India. She has also played double bass in a jazz quartet. Digging Up Milton is Jennifer's first novel.