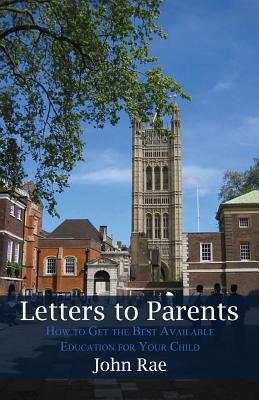 Letters to Parents (Paperback)
How to get the best available education for your child
Thistle Publishing, 9781910198377, 350pp.
Publication Date: May 19, 2015
* Individual store prices may vary.
Description
"A useful antidote to much of the fashionable nonsense written about education. Letters to Parents is packed with good sense and can be confidently prescribed in all cases of parental stress and anxiety."
Daily Telegraph "John Rae demonstrates common sense on each page. The more parents who read this book, the better."
Chris Woodhead, Chief Inspector of Schools More than ever before, a child's chances of a good education depend on parents making the right decisions about schools, Here, for the first time, is frank advice on how to identify a school's strengths and weaknesses and how to plan your children's schooling so that they have the best education available. Dr John Rae is an acknowledged authority on independent schools who has also written and broadcast on many aspects of the state system. He sets out to answer questions such as:
- How important are academic league tables?
- Will I have to pay fees to guarantee a good education?
- Which are the best state and independent schools and what do they have in common? This is the book parents have been waiting for. Choosing a school for your children is always a gamble. Letters to Parents will improve the odds in your favour.
About the Author
John Malcolm Rae was headmaster at Westminster School between 1970-86. He is author of The Custard Boys (1960). He has also written books on education, including the best-selling Letters from School (1987) and five books for children. He died in December 2006.