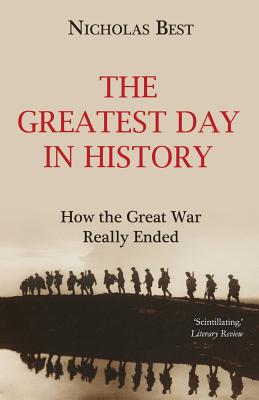 The Greatest Day in History (Paperback)
How the Great War Really Ended
Thistle Publishing, 9781910198711, 470pp.
Publication Date: February 17, 2015
Other Editions of This Title:
Hardcover (10/13/2008)
* Individual store prices may vary.
Description
'This volume sets an example that will be hard to equal... Reading it is like looking into a photograph album full of vivid snaps of the world taken during a week of high tension, crisis, celebration, tragedy and illusion'
Daily Mail 'Scintillating... a miscellany of tragedy mixed with delight'
Literary Review The Greatest Day in History charts the events leading up to Armistice Day 1918, the day the First World War finally came to an end. Everyone remembered where they were on 11 November 1918, from Marlene Dietrich in Berlin and Gandhi on his sick bed to Charles de Gaulle in a German prison camp. Eamon de Valera was in Lincoln Gaol. The Kaiser was in Holland, fending off an assault by the British ambassador's wife. Private Erich Maria Remarque was strutting about in an officer's uniform. General Ludendorff was fleeing Berlin in dark glasses and a false beard. As for Harry Truman, he was firing off the last of his ammunition before joining the celebrations on the front line...
About the Author
Nicholas Best is a former literary critic for the Financial Times. He has written more than 20 books, both fiction and non-fiction, and is translated into many languages. For more information, see www.nicholasbest.co.uk.
or
Not Currently Available for Direct Purchase