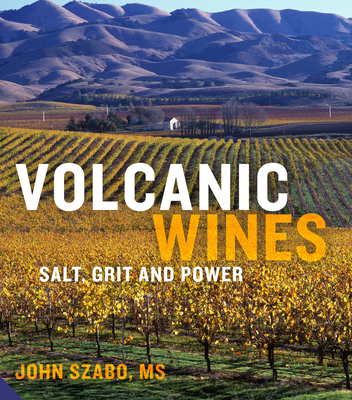 Volcanic Wines (Hardcover)
Salt, Grit and Power
Jacqui Small, 9781910254004, 256pp.
Publication Date: October 16, 2016
* Individual store prices may vary.
Description
Winner in Drink category - André Simon Food and Drink Book Awards 2016 

Volcanic Wines takes a novel approach to the world of wine, using volcanic soil as the overarching theme and link between a wide range of grapes and wine regions. Wine professionals are already deeply attuned to the impact of terroir and soil type on wine characteristics and quality. While consumers tend to rely on grape variety as their main purchasing cue, as the market broadens and general knowledge of wine expands, terroir now figures more prominently in their thinking. It's more widely acknowledged and understood today that even small variations in soil type can result in dramatically different wines, and that the same soil type can yield a distinctive imprint regardless of grape variety or production region.
John Szabo introduces geology, volcanism and the correlation between soil type and wine composition, with the right balance of science, personal history and commercial considerations. A wide and breathtaking range of photographs highlight how stunning volcanic wine regions are; together with maps and wine labels, the reader is taken on a visual tour of these remote corners of the globe. Volcanic Wines is a well-researched resource on the history, unique characteristics, wine styles and most celebrated producers in each volcanic region. Personal and anecdotal information helps to humanize the journey, with experiences and discoveries shared in eloquent but accessible, playful prose. 
About the Author
Toronto-based author and wine critic JOHN SZABO was the first Canadian to add the Master Sommelier credentials to his name in 2004. He was listed as "Canada's best-known sommelier" in Meininger's Wine Business International in 2012. John is a partner and principal critic for WineAlign.com and wine columnist for Ricardo, ModaLina, and CityBites magazines. He writes occasionally for US-based Wine & Spirits Magazine, and has published in Nation's Restaurant News, En Route Magazine, the Globe and Mail, the National Post, Vines Magazine, and Wine Access Magazine, among others. Past books include Pairing Food and Wine For Dummies (Wiley, December 2012), and Sommelier Management (Canadian Association of Professional Sommeliers, Revised Edition 2013). John has appeared on CTV National News, Breakfast Television, The Morning Show, TVOntario, CityTV, and CBC TV and has been a regular guest on classical 96.3FM for many years. John also consults on restaurant beverage programs, from small neighbourhood operations to national chains. He counts Toronto's Pearson International Airport, the Trump International Hotel and Tower Toronto and the National Arts Centre among many past clients.
Praise For Volcanic Wines: Salt, Grit and Power…
"An invaluable resource for wine-lovers."
- The Herald
"With superb illustrations and encyclopaedic detail it examines the wine-related influences of, for example, sand, pumice, ash and rock on Santorini's vineyards."
- Scotland on Sunday
"It's one thing to be thought-provoking, which Volcanic Wines certainly is, but it's another to also be quite as appealing as it is, and with such ease... An amiable tour of surprising hotspots around the world - some now cooled down, some not - and discovers the virtues of their wines."
- Decanter