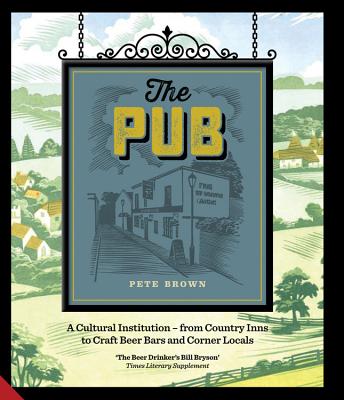 The Pub (Hardcover)
A Cultural Institution - from Country Inns to Craft Beer Bars and Corner Locals
Jacqui Small, 9781910254523, 256pp.
Publication Date: August 18, 2016
* Individual store prices may vary.
Description
WINNER OF THE DRINK BOOK AWARD AT THE FORTNUM & MASON FOOD AND DRINK AWARDS 2017.
Pete Brown has visited hundreds of pubs across the UK and is uniquely placed to write about pubs that ooze atmosphere, whatever the reason, be it food, people, architecture, location or decor. The best pubs are those that always have a steady trade at any time on any day of the week, and where chat flows back and forth across the bar. They're the places where you want to drink weak beer so you can have several pints and stay longer. Some are grand Victorian palaces, others ancient inns with stunning views across the hills. Some are ale shrines, others gastropubs (though they probably don't call themselves that any more). A precious few are uniquely eccentric, the kinds of places that are just as likely to have terrible reviews on Trip Advisor as great ones, because some people don't realize that the outside toilets, limp sandwiches on the bar and really disturbing full-size mannequin glaring at you from the corner are all part of the charm.

This charming collection of 300 pubs explores what makes each one ooze atmosphere, be it food, people, architecture, location or décor, and looks at the quirks of local history as well as different trends and types of pub. Full of pen portraits of punters or publicans, legends, yarns and myths, this entertaining book is the perfect gift for regulars of that well-loved British institution, the pub.
About the Author
PETE BROWN makes people thirsty for a living. The author of seven books on beer, cider, pubs and why they matter, his broad, fresh approach takes in social history, cultural commentary, travel writing, personal discovery and natural history, always delivered with the humanity and wit you'd expect from a great night in the pub. His work has appeared in the UK in publications including The Guardian, The Times, the Daily Telegraph and a host of beer-themed publications, and in the US in titles including All About Beer, Draft and Cidercraft. He also features regularly on BBC Radio 4's Food Programme, and judges a range of beer, cider and pub competitions. His blog, http://petebrown.blogpsot.co.uk has global reach, and he is internationally regarded as one of the leading commentators on the vibrant craft beer scene. Pete has twice been named British Beer Writer of the Year, and is also twice winner of Fortnum & Mason Drinks Writing awards.  
Praise For The Pub: A Cultural Institution - from Country Inns to Craft Beer Bars and Corner Locals…
'an enjoyable read and the instruction that "You order any pints of Guinness at the beginning of the round, never the end, followed by pints of cask ale and then any other drinks, giving your order in full all at once rather than ordering one drink at a time" needs to be printed on cards to be given out to office parties at Christmas.'
- Best of British
'Unlike many books on pubs that tend to get bogged down in history Pete manages to convey the charm and atmosphere and, indeed, the characters'
- In a Pub
"This is a very entertaining and well researched book which would make a fine present for a beer and pub lover."
- David Harris, The New Imbiber
'just what the battered, beleaguered, benighted British boozer so desperately needs – a handsome book singing its praises.... Like a fine glass of well-conditioned beer, this is a book to sip and savour. '
- Roger Protz, Protz on Beer
"Paints a vivid picture of England's historic and contemporary pub scene"
- J. R. Brooks, The Mercury News
'it's fair to say that Pete Brown is well-equipped to document the best pubs around and what makes them special... Brown goes further than just mentioning the ale offering and trends. He focuses on insightful quirks like local history, legends, yarns and myths, which makes this a highly entertaining read - preferably enjoyed in your loal with a pint!'
- Great British Food
or
Not Currently Available for Direct Purchase