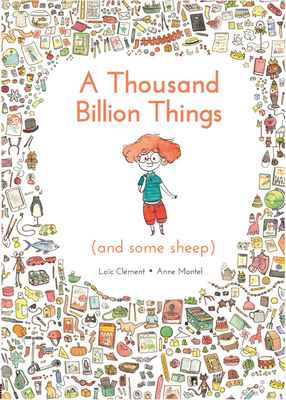 A Thousand Billion Things (and Some Sheep) (Hardcover)
words & pictures, 9781910277423, 32pp.
Publication Date: October 3, 2017
* Individual store prices may vary.
Description
Every day presents us with a wide range of choices including what to have to breakfast, what to wear and what to do in our spare time. Even deciding which piece of homework to tackle first presents a challenge. But when night comes and it's time for bed, what choice is there but to lie in the dark … and count sheep? This book takes us through all the choices in a typical child's busy day and presents the reader with a puzzle. On every spread there's something specific to find amongst the thousand billion (well, almost) things in the bright and busy artwork.
About the Author
Loic Clement writes comics and children's books which often feature trees, cats, cooking and magic. He lives in the countryside in France.
Graphic artist Anne Montel has several strings to her bow - she creates comics, picture books for children, and cookbooks. She lives in France.
Praise For A Thousand Billion Things (and Some Sheep)…
"The title seems hardly an exaggeration, as all but a small corner of each spread is jam-crammed full of tiny, nonrepeating images of foodstuffs and other (to use the French original's term) "trucs" that a young, white narrator encounters while going from breakfast to dinner…A rare display of artistic invention, with rewards aplenty for close viewing." – Kirkus Reviews
"Each busy, cluttered page offers a fascinating array of unique, small-to-minuscule items, designed for hours of enjoyment and conducive to creating additional I-spy games—and perhaps also helpful in easing little ones into bed." — Randall Enos for Booklist Online
"A redheaded girl informs readers that she doesn't like going to sleep: "Of course, you are wondering, why not? Well, let me tell you, it's a matter of choice!" She then takes readers through various everyday scenes (breakfast, bath time, etc.) as they are asked to locate items hidden in pages filled with delicately drawn clothing, vegetables, sea creatures, and more...Montel's elegant images are a pleasure to pore over." - Publishers Weekly