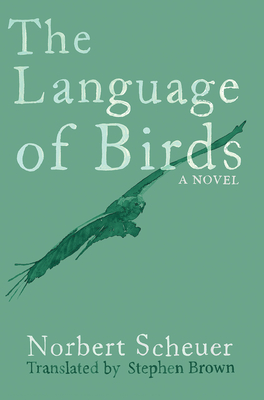 The Language of Birds
Paperback

* Individual store prices may vary.
Description
It is 2003, and Paul Arimond is serving as a paramedic in Afghanistan. The twenty-four-year-old has no illusions of becoming a hero. Rather, he has chosen the army to escape the tragedies of his past and his own feelings of guilt. As a result, he finds himself in the same land, now war-torn, where an ancestor of his, Ambrosius Arimond, a late eighteenth-century traveler and ornithologist, once explored and developed the theory of a universal language of birds.

As visceral horrors and everyday banalities of the war threaten to engulf Paul, he, like his great-great-grandfather, finds his very own refuge in Afghanistan's natural world. In a diary filled with exquisite drawings of birds and ruminations on the life he left behind, Paul describes his experiences living with two comrades who are fighting their own demons and his befriending of an Afghan man, Nassim, as well as his dreams of escaping the restrictive base camp and visiting the shores of a lake visible from the lookout tower. But when he finally reaches the lake one night, he finds himself in the midst of a chain of events that, with his increasingly fragile state of mind, has dramatic—and ultimately heartbreaking—consequences.

A meditative novel that shows a new side to the conflict in Afghanistan, The Language of Birds takes a moving look at the all-too-human costs of war and questions what it truly means to fight for freedom.
 
Praise For The Language of Birds…
"Norbert Scheuer has created a small gem of wartime writing."

 
— Times Literary Supplement
"One of the most sophisticated writers this country has produced in recent years."

 
— Der Spiegel
"A compositional masterpiece."

 
 
— Der Tagesspiegel
"A beautiful exploration of constraints, freedom, and death. . . . The Language of Birds is an atmospheric and poignant novel."

 
— Helsinki Book Review
"Scheuer's The Language of Birds follows protagonist Paul Arimond, an army paramedic, as he navigates war-torn Afghanistan in 2003. Paul
treads the same ground as his ancestor, Ambrosius Arimond, an ornithologist who traveled to Afghanistan in the late eighteenth century. The narrative follows Paul's diary entries detailing the birds he encounters, illustrations of these creatures, as well as letters written by Ambrosius. This format, combined with Scheuer's poetic prose, allows readers intimate access into Paul's mind, resulting in a poignant look at personal tragedy and the atrocities of war."
— World Literature Today
Haus Publishing, 9781910376638, 160pp.
Publication Date: November 15, 2018
About the Author
Norbert Scheuer is a writer who lives in the Eifel region of Germany. Stephen Brown is a playwright, translator, and cultural critic. His translations from German include Joachim Sartorius's The Princes' Islands and Birgit Haustedt's Rilke's Venice.
or
Not Currently Available for Direct Purchase