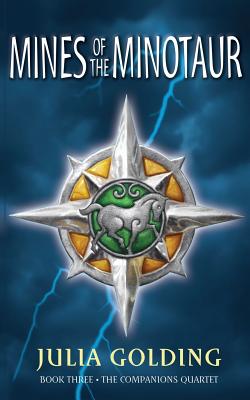 Mines of the Minotaur (Paperback)
Frost Wolf, 9781910426043, 320pp.
Publication Date: September 12, 2014
* Individual store prices may vary.
Description
Connie is a Universal - she can talk to animals and mythical creatures. But something dark is calling to her, giving her dangerous power, and her best friend Col doesn't know what to do. When her strange behaviour means Connie is rejected by the Society for the Protection of Mythical Creatures - the very group of people who are supposed to protect her - she hides in an abandoned tin mine. There she is befriended by a blinded Minotaur, and feels safe amongst the other wounded creatures the Society and the world have forgotten. But even deep underground she can't block out the dark voice in her head. Who is it, and where does it come from? And why does Connie feel so terrified by the power it gives her?
About the Author
Julia Golding also writes under the pen names of Joss Stirling and Eve Edwards. She is a multi-award winning writer for children and young adults. Former British diplomat and Oxfam policy adviser, she has now published over thirty books in genres ranging from historical adventure to fantasy. Read carefully and you'll spot all sorts of material from her diplomatic and Oxfam careers popping up in unexpected places. She has a doctorate in English literature from Oxford University. Studying for this prompted her to write her first novel, 'The Diamond of Drury Lane', set in 1790 and told by her intrepid heroine, Cat Royal. It went on to win the Waterstones Children's Book Prize 2006 and the Nestle Children's Book Prize 2006 (formerly known as the Smarties Prize). In the US, 'Secret of the Sirens' won the honor book medal of the Green Earth Book Award. 'Dragonfly' won the 2012 Beehive Book Award, Young Adult Division, given by the Children's Literature Association of Utah and voted on by readers in schools and public libraries. Writing as Stirling, 'Finding Sky' is shortlisted for the German Children's Literature Award 2013 and 'Stealing Phoenix' reached the last three of the Lancashire Children's Book Award 2013. She is also a Fellow of the English Association. Over half a million of her books have been sold worldwide in many languages.
or
Not Currently Available for Direct Purchase