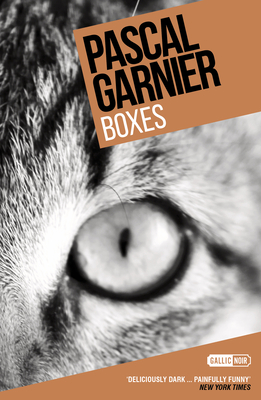 Boxes (Paperback)
Gallic Books, 9781910477045, 112pp.
Publication Date: October 13, 2015
* Individual store prices may vary.
Description
'Garnier plunges you into a bizarre, overheated world, seething death, writing, fictions and philosophy. He's a trippy, sleazy, sly and classy read.' A. L. Kennedy
Brice and Emma had bought their new home in the countryside together. And then Emma disappeared. Now, as he awaits her return, Brice busies himself with DIY and walks around the village.
He gradually comes to know his new neighbours including Blanche, an enigmatic woman in white, who has lived on her own in the big house by the graveyard since the death of her father, to whom Brice bears a curious resemblance...
Reviews
'...this one will help reinforce his cult status among noir fans.' Publishers Weekly
'It's dark, stomach-twisting stuff, and the mysteries surrounding Emma's whereabouts and Brice's striking visual similarity to someone in Blanch's past keep you turning the pages hungrily.' La Friction
'Quirky and unsettling...' Fiction Fan's Book Reviews
'..a horribly funny novel about bereavement: appalling and bracing in equal measure.' John Banville
'I would recommend Boxes by Pascal Garnier to anyone who enjoys reading a mystery. Garnier adds a plot twist at the very end that will have you grabbing for another one of his books.' San Diego Book Review
'Garnier calmly peels back the revealing layers, leaving a raw sort of horror all the more devastating for its believable simplicity.'The Complete Review
'It is an achievement for an author to write in finely crafted prose but for a translator to convey that in another language is significant too. This story kept me reading without stopping Not the first time from Gallic Books. It also has an unexpected ending. It is good to leave a book feeling there is more material in it for your mind to conjure with and this does just that ' D.Olser, NetGalley reviewer
'The story is told in clear concise prose and although there is plenty of dark matter there are also surreal touches, and moments of real humour. This is quality writing; those who enjoy Highsmith and Simenon, in particular, may find it to their taste.' Crime Review
'It's an atmospheric and absorbing tale, an exploration of loss and abandonment, often quirkily amusing and sometimes very moving.' M.Jenkinson, NetGalley reviewer
Coverage from NPR