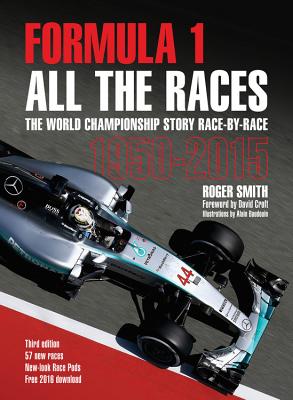 Formula 1 (Hardcover)
All The Races: The World Championship Story Race-By-Race 1950-2015
Evro Publishing Limited, 9781910505113, 668pp.
Publication Date: May 15, 2016
Other Editions of This Title:
Hardcover (3/1/2012)
Hardcover (5/1/2013)
* Individual store prices may vary.
Description
This remarkable book is the third edition of an acclaimed work of reference about Formula 1. It has been meticulously researched and written to capture the character and essence of every one of the 935 World Championship races held from the beginning of Formula 1 in 1950 to the end of the 2015 season. Each entry highlights the key events of each Grand Prix from qualifying through to the final outcome as well as spotlighting those incidental happenings so unique to F1 that influenced a race or an unfolding championship battle. Nothing is missed in this unique book of record.
Fully updated three years since publication of the sell-out previous edition.
Each race entry is packed with information, comprising a descriptive text supported by numerous statistics.
935 races, 206 winning cars, 105 winning drivers, 66 seasons, 32 champions.
All race-winning cars illustrated with high-quality artwork by Alain Baudouin.
Decade-by-decade structure: the 1950s (Red to green); the 1960s (From strength to strength), the 1970s (Television stardom), the 1980s (Bernie's travelling circus), the 1990s (Going global), the 2000s (Front-page news), the 2010s (Money talks).
Appendices give overview listings, including World Champion drivers, World Champion constructors, total wins for drivers and constructors, etc.
About the Author
Roger Smith is a leading authority on Formula 1 who has suffered from a chronic case of 'F1 fever' since he was still wearing short trousers in 1957. Unfortunately it's incurable. The touchstone for his lifelong passion for Grand Prix motor racing was the heroic first Vanwall triumph by Moss/Brooks at Aintree in 1957 (Race 61). Helplessly stricken he began to attend every Formula 1 race possible in the 1960s. Since then he's been soaking up the sport and its history like an oily rag, and has now visited every Grand Prix circuit on five continents. His first book was Analysing Formula 1. This led to regular appearances on BBC radio as presenter and resident expert. More recently he has also published the authoritative Formula 1: All the Races. He has spent his professional life working with and making use of statistics, latterly as Managing Director, Europe, of Nielsen Television Ratings, the leading worldwide source of 'currency' viewing figures for broadcasters and advertisers.