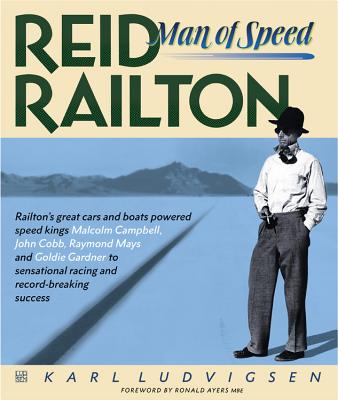 Reid Railton (Hardcover)
Man of Speed
Evro Publishing Limited, 9781910505250, 848pp.
Publication Date: July 10, 2018
* Individual store prices may vary.
Description
Reid Antony Railton, Cheshire-born automotive engineer par excellence, created an extraordinary range of cars. He rose to renown during the 1930s as chief engineer at Thomson & Taylor, Brooklands-based racing-car builders. There he realised the dreams of that era's top men of speed, including Tim Birkin, Malcolm Campbell, Whitney Straight, John Cobb, Raymond Mays and Goldie Gardner. His great cars powered them all to sensational racing and record-breaking success. This magisterial book, by one of the world's foremost automotive historians, tells Reid Railton's personal and professional story in superb detail and fascinating depth, with special focus on Reid's unique insights--amounting to genius--and technical accomplishments.
About the Author
Karl Ludvigsen is respected as a close and knowledgeable observer of, and participant in, the world motor industry. In addition to his industry activities as an executive with GM, Fiat and Ford and head of a consulting company, he has been active for over 60 years as an author and historian. As an author, co-author or editor he has some five dozen books to his credit, all concerning cars and the motor industry, his life-long passion. Many have been garlanded for their high standard of writing and research. An American, he lives in the UK, in Suffolk.
Praise For Reid Railton: Man of Speed…
"I can only describe this book as absolutely magnificent. Karl Ludvigsen charts the life and times of Reid Railton in extraordinary detail and the confidence and scale of his research and knowledge is nothing short of astounding. As land speed record enthusiasts we know all about the Campbells and Segraves, but very little about Cobb and almost nothing about Railton, the engineer in the margins of history who made so many of the great British records possible. Not any more. This very special book for every motor racing enthusiast gets pride of place in my library. It is a brilliant read."
- Richard Noble, OBE, Land speed record holder 1987â??93 and project director of supersonic cars
"The Age of Combustion had in Reid Railton its charming herald angel. And this is a record-breaking book: enchanting, original, fascinating, technically scrupulous and immaculately researched. But there's also touching nostalgia for a long-lost moment when Britannia ruled the roads as well as the waves. With Man of Speed Karl Ludvigsen crowns himself the outstanding historian of the motor car."
- Stephen Bayley, Author, critic, columnist, consultant, broadcaster, debater and curator
"Karl Ludvigsen's Reid Railton: Man of Speed is an exceptional account of one of history's pre-eminent engineers. Gifted with immense talent, Railton was a brilliant man who led a remarkable life and whose contributions resonate to this day. Karl Ludvigsen's latest is yet another example of his unmatched story telling and compelling detail; it is simply a superb piece of work."
- Peter M. DeLorenzo, Publisher and Editor-in-Chief, Autoextremist.com
"Karl Ludvigsen has produced a thoroughly informative and authoritative biography about one of the most influential design engineers of fast cars of any era. Without Reid Railton's incredible ingenuity, foresight and knowledge of aerodynamics, my amazing grandfather Sir Malcolm Campbell would never have achieved his enormous success. And when I was a little girl I remember my dear father Donald Campbell waxing lyrical about this man Reid Railton and what a born genius he was."
- Gina Campbell, QSO, Grand-daughter of Sir Malcolm Campbell and daughter of Donald Campbell CBE
"There can be few, if any, characters connected with the history of motor racing more under-appreciated than Reid Antony Railton. Fortunately, thanks to Karl Ludvigsen, we can now fully appreciate his extraordinary achievements — and the context in which they were set."
- Nicholas Faith, Author of The Wankel Engine and former motor industry editor of The Economist
"Too often the designer and engineer, without whom there would be no car, are all but forgotten. This fascinating book, Reid Railton: Man of Speed, goes a long way to balance the scales by, for the first time, shining a light on the distinguished career of Reid Railton, a talented designer and engineer, who if fate had been kinder would today be as widely known as Henry Royce."
- Sir Greg Knight, MP,