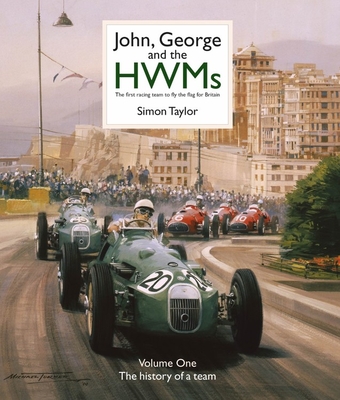 John, George and the HWMs (Hardcover)
The first racing team to fly the flag for Britain
Evro Publishing Limited, 9781910505328, 520pp.
Publication Date: March 10, 2020
* Individual store prices may vary.
Description
Founded by John Heath and George Abecassis, the HWM racing team set out in 1950, the year of the Formula 1 World Championship's inauguration, to race its Formula 2 cars all over Europe in a unique British endeavour. Always run on a shoestring, HWM's single-seaters achieved great results in flying the flag with mainly British drivers, most notably young Stirling Moss. In 1954 the team turned to sports cars, sometimes beating its Jaguar and Aston Martin works competitors, but Heath's death in the 1956 Mille Miglia was a tragic setback and the following year the team was wound up. Through the focus of HWM, this book paints an evocative picture of a period that marked the beginnings of Britain's prowess in motor racing.
The boxed set includes two beautifully bound hardcover volumes. Volume 1 covers the story of the racing (1946–57) and Volume 2 covers the 19 individual cars and the men who raced them (1948–58).
The beginnings of HWM (the initials of the garage Hersham and Walton Motors) and the two key characters behind the team — smooth, sanguine George Abecassis and mercurial, parsimonious John Heath.
Racing the single-seaters around Europe (1950–53) with Stirling Moss, Lance Macklin and Peter Collins among the drivers.
Switching to sports cars (1954–57), competing in Britain and across Europe, sometimes beating the big names.
The individual histories of all the HWMs made are told in full, complete with their specifications and ownership chains.
Coverage includes biographies of many of the fascinating and poignant people associated with HWM.
Packed with superb period photos sourced from libraries and private collections all over the world.
About the Author
Simon Taylor has been immersed in motor sport for more than 50 years as a journalist, commentator, publisher and historian. He joined the weekly magazine Autosport straight from university, and was its editor by the age of 23. He became a publisher for its proprietors, Haymarket Magazines, devising and launching other car magazines such as What Car? and Classic & Sports Car, and went on to be the company's Managing Director and then its Chairman. He was BBC Radio's voice of motor racing for more than 20 years, reporting on Formula 1 from all over the world, and has done a variety of TV commentary and presentation work. He has a small collection of classic cars, and competes in historic motor sport with his ex-Stirling Moss 1950 HWM.
Sir Stirling Moss is a national treasure. Arguably the world's greatest all-round racing driver, he was a hero to several generations of schoolboys and enthusiasts throughout the world. Moss is now so iconic his name is often used as a metaphor for "racing driver" - the name alone invokes mental images of speed, bravado, the jet-set lifestyle and a bevy of beauties with whom to live it. By 1961 his career was at its peak; absolutely at the top of his game, a charismatic sportsman famous across the world.