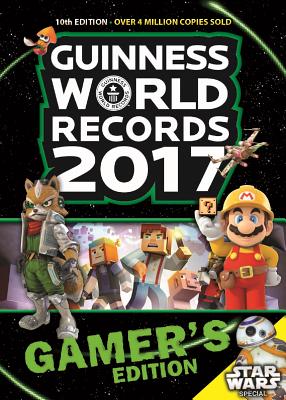 Guinness World Records 2017 Gamer's Edition (Paperback)
Guinness World Records, 9781910561409, 216pp.
Publication Date: August 30, 2016
* Individual store prices may vary.
Description
It's time to celebrate the 10th anniversary of the Guinness World Records: Gamer's Edition With over four million copies sold, this is the ultimate annual for every gaming fan. It's bursting with the latest facts and stats on your favorite games from the futuristic soccer action of Rocket League to the psychedelic paint battles of Splatoon. And as Star Wars mania explodes once again, we explore everything Jedi in a special feature section. Plus, you ll get a sneak peek at all-new games from the ever-evolving gaming universe Get an inside look at the indie game scene, the big-money world of eSports, and a celebration of 25 years of Mario Kart. There's everything from space shooters such as Destiny, to RPGs such as Fallout 4, to the hit sport series FIFA and Madden. We ve got sims, strategy games, and horror titles, and we also take a look at the toys-to-life phenomenon. From League of Legends to The Legend of Zelda, it's all here in the 2017 edition of Guinness World Records: Gamer's Edition
About the Author
GUINNESS WORLD RECORDS (GWR) is the universally recognized global authority on record-breaking achievement. First published in 1955, the annual GUINNESS WORLD RECORDS book has gone on to become one of the best-selling titles of all time, with 2.8 million copies sold in 2013. Since its launch nearly 60 years ago over 132 million copies - and 3 million e-books - have been sold in 20 languages, in more than 100 countries. The internationally renowned brand is also available across a number of platforms; GUINNESS WORLD RECORDS global television shows are watched by over 750 million viewers annually, over half a million subscribe to the GWR YouTube channel, the global website receives 14 million viewers annually and the brand has over 4 million fans on Facebook. In 2013, OFFICIALLY AMAZING became the registered trademark of Guinness World Records Limited.
or
Not Currently Available for Direct Purchase