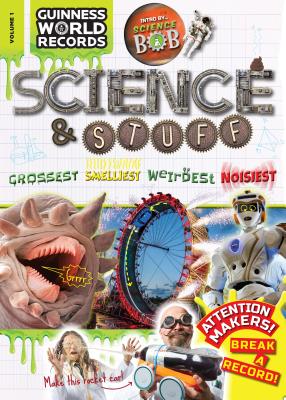 Guinness World Records (Paperback)
Science & Stuff
Guinness World Records, 9781910561645, 216pp.
Publication Date: January 9, 2018
Other Editions of This Title:
Hardcover (1/9/2018)
* Individual store prices may vary.
Description
Guinness World Records: Science & Stuff is a whirlwind tour through the astounding, record-breaking world (and universe) around us, with an intro from TV science educator and author Science Bob. Packed with spectacular superlatives, shocking stats, fantastic facts and fun figures, Science & Stuff celebrates the simple joy in finding things out. It tackles the big questions that keep people up at night, such as:
• Can you belch in space?
• What does woolly mammoth taste like?
• How much would the Death Star cost?
• Is the answer to this question no?
Join us as we rise from the depths of the ocean, home to vampire squids from hell, to the dizzy heights of the International Space Station, where scientists unravel the secrets of (pooping in) zero-g. On the way we stop to talk with some of the men and women who are out in the world finding answers and making stuff. Ever wanted to know what it's like to ride a motorized toilet at highway speeds, command a swarm of tiny robots or spend a year in space? Well, you'll find your answers in here.
And that's not all – have a go at ten record-breaking science experiments in the special Make & Break section. Our very own mad professor, Burnaby Q Orbax, and his trusty lab assistant Sweet Pepper Klopek, guide you through at-home challenges, from the greatest height to drop an egg without it breaking to the farthest distance by a Mentos and soda car. It's gonna get messy!
Guinness World Records: Science & Stuff – the grossest, smelliest, weirdest and noisiest guide to, well, science... and stuff.
About the Author
GUINNESS WORLD RECORDS (GWR) is the global authority on record-breaking achievement. First published in 1955, the iconic annual Guinness World Records books have sold over 138 million copies in over 20 languages and in more than 100 countries. Additionally, the Guinness World Records: Gamer's Edition, first published in 2007, has sold more than 5 million copies to date.
Guinness World Records' worldwide television programs reach over 750 million viewers annually and more than one million people subscribe to the GWR YouTube channel, which enjoys more than 300 million views per year. The GWR website receives 21 million visitors annually, and we have over 12 million fans on Facebook.
The Guinness World Records commercial sales division provides bespoke consultancy services for some of the world's top brands and agencies to help place record breaking at the heart of their marketing campaigns, employee-engagement programs, and live and experiential events.