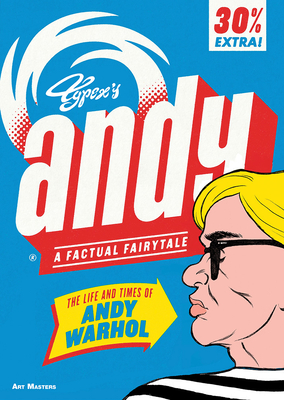 Andy (Paperback)
The Life and Times of Andy Warhol: A Factual Fairytale (Art Masters)
Selfmadehero, 9781910593585, 568pp.
Publication Date: October 30, 2018
* Individual store prices may vary.
Description
From the 32 canvas Campbell's Soup Cans to the Marilyn Diptych, Andy Warhol's silk-screen prints are the epitome of Pop Art: witty, gimmicky and unafraid of repetition. Obsessed with consumerism and the cult of celebrity, Warhol (1928-1987) exalted the "surface of things"--and yet he was a man of deep complexity. In Andy, Typex captures the remarkable life of the king of Pop Art, from his working-class upbringing in Pittsburgh to the dizzying heights of his celebrity. Spanning a period that began with the "talkies" and ended with the advent of house music, it is also a memorable portrait of 20th-century pop culture and the stars who defined it. Spanning Warhol's early career as a commercial illustrator, his relationship with the Velvet Underground, and the development of his own instantly recognizable style, Andy is an exhilarating portrait of a transcendent artist and a master self-promoter. Intensively researched, this 568-page graphic biography has the approval of the Warhol Foundation.

About the Author
Typex is a comics artist and illustrator. His graphic biography Rembrandt was commissioned by Amsterdam's Rijksmuseum and published in English by SelfMadeHero. He lives in Amsterdam.