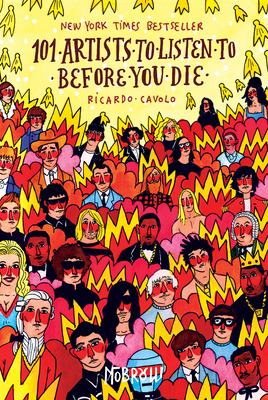 101 Artists to Listen to Before You Die (Hardcover)
Nobrow, 9781910620007, 232pp.
Publication Date: September 15, 2015
* Individual store prices may vary.
Description
A graphic novel in the form of Ricardo Cavolo's personal diary, which follows the story of music through 101 essential artists; from Bach to Radiohead, to Amy Winehouse, Nirvana and Daft Punk. With over one hundred uniquely colorful illustrations and handwritten text, lists, notes, and personal anecdotes this is a book to delight in.
About the Author
Born in his father's painting studio, Ricardo Cavolo has grown up surrounded by art and is now one of the most influential and successful young illustrators to come out of Spain. His influences range from outsider art to medieval paintings and tribal art. Cavolo's work has been exhibited in solo shows in Madrid, Barcelona, Bilbao, London and Montreal.
Praise For 101 Artists to Listen to Before You Die…
"Charming personal anecdotes and lush praise are enticing invitations to explore and sample a range of music. Cavolo's vibrant portraits--a mixture of folk- and tattoo-inspired art--are equally mesmerizing."
—Shelf Awareness, STARRED REVIEW

"The illustrations seem larger than the pages themselves, like graffiti tributes or mural tattoos. [...] 101 Artists To Listen To Before You Die is the best kind of memoir: it leaves you with an understanding, maybe not of what the author has done, but who he is."
—The AV Club

"[...] an inventive and wonderful book. [...] The art is so visceral and organic that the color schemes and imagery bleed into his personal anecdotes perfectly, making quite the distinct reading experience. For fans of music of any genre, this book has a little bit of everything.
—Graphic Novel Reporter, a Fall 2015 Graphic Novel Pick

"The textual sketches include a brief synopsis of the importance of the artist not only in time but also to Cavolo as he matures, which leads to sometimes funny and poignant stories. His red-cheeked portraits are deceptively simple, with vibrant, colorful, childlike drawings and complex compositions and backgrounds. […] Many age groups interested in a wide swath of music will welcome this highly original piece of art."
—Library Journal

"It's a unique combination of words and pictures that will make you consider all the important musicians in your own life—and maybe introduce some new ones to you."
—Mental Floss

"utterly charming and often quite beautiful."
—Comics Bulletin

"Cavolo has a way with words that puts him in the realm of the poets, putting pen to page and delivering a level of sincerity that is desperately needed in a world filled with artifice."
—Loser City

"Ricardo Cavolo's 101 Artists To Listen To Before You Die is a beautiful book, not just for its honesty and not just for its transcendent art. It is a beautiful book because it is a pure expression of self, celebratory and excited."
—Daniel Elkin