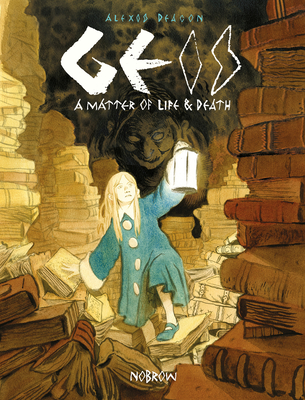 Geis
A Matter of Life and Death
Hardcover

* Individual store prices may vary.
Description
As the great chief matriarch lay dying, she gave one final decree: Upon her death there would be a contest. Having no heir of her own blood she called on the Gods. Let fate decide the one truly worthy to rule in her place. The rich, the strong, the wise, the powerful; many put forward their names in hope of being chosen. But when the night came . . . only fifty souls alone were summoned.

Book one in gripping action, supernatural, and historical fantasy graphic novel trilogy where souls battle in a contest to become the ruler of an island.
Praise For Geis: A Matter of Life and Death…
A JUNIOR LIBRARY GUILD SELECTION
SELECTED AS ONE OF Slate'S 10 FAVORITE COMICS OF 2016

This first volume of what promises to be a rousing adventure is gorgeously drawn and full of characters to root for—and against.
—Slate, Slate's 10 Favorite Comics of 2016

Geis is a genuine surprise, an engrossing fantasy tale that manages the neat trick of seeming both familiar and fresh. […] Geis is an extraordinarily thoughtful book that confirms Deacon's arrival in comics from the world of children's literature. Even if the presentation still has one foot in that genre, there is enough genuine dread within to keep grown-up readers turning the pages.
—The AV Club

This first volume in an anticipated trilogy is a lightning paced, tragic, and gripping start; readers will eagerly await the next outing.
—Bulletin of the Center for Children's Books, Starred Review

Alexis Deacon's Geis is probably my standout book of the year at the moment.
—Zainab Akhtar

Readers will give themselves over to the dreamlike, immersive narrative [...]
—Kirkus Reviews

Deacon's artwork is beautiful, elegant. I already mentioned I'm a fan, right? But to see him do such finely-detailed work in a graphic novel is remarkable. The palette is dominated by primarily soft, pastel hues, and his lines are both precise and fluid. He paces the book well and sets a mood both mysterious and sinister
— but always riveting and quite entertaining. I was bummed to see the story end. (For now.)
—Julie Danielson

With stunning artwork and strong control over the delivery of the story, Alexis Deacon has turned in a spectacular opening chapter. It's sharp and assured and engrossing, and you'll go crazy waiting for the next installment.
—Multiversity

The action is non-stop [...] it is utterly fascinating.
—Youth Services Book Reviews

Children's book illustrator Deacon (Croc and Bird) starts an epic fantasy with his first graphic novel. In an unnamed fantasy world, the Great Chief Matarka has died leaving no heir. The Chief Judge, the High Priest, the Lord Chamberlain, the Grand Wizard, and the young daughter of the Kite Lord are among those summoned to a trial to determine who will rule in her place. But an evil sorceress has taken control of the contest and tricks them all into agreeing to a cursed geis, or taboo, sending them on scattered quests across the land. Tangled forests, deserts, bat-filled caverns, rivers, and medieval towns are rendered in loose brushwork with clumps of gorgeous detail, a meeting of Maurice Sendak and Pieter Bruegel. The early scenes are colored in a palette of soft ochers, pale blues, and peaches. The pages darken to include greens, moody violets, and charcoal blacks as the contest gains deadly urgency, with this first volume ending in a startling cliff-hanger.
—Publisher's Weekly

The graphics are well done, the story is interesting, and there will be more of this story. Any who survived the first test now has another test coming up...
—Book Faerie

A suspenseful, exciting story with a little bit of a dark streak.
—Stephanie's Book Reviews
Nobrow, 9781910620038, 96pp.
Publication Date: July 26, 2016
About the Author
Alexis Deacon graduated in 2001 with a first class honors degree in illustration from the University of Brighton. Before graduating he was awarded the Burt Brill and Cardens award for the second best degree show at his university. The urge to draw has been with Alexis as long as he can remember. "I've probably drawn compulsively since the age of three or four." Whenever he got bored playing with a particular toy as a child, rather than put it down and pick up something else as most kids would do, he'd put the toy down and pick up a sketchbook to carry the game on through pictures on paper. He is best known for his children's picture books.
or
Not Currently Available for Direct Purchase