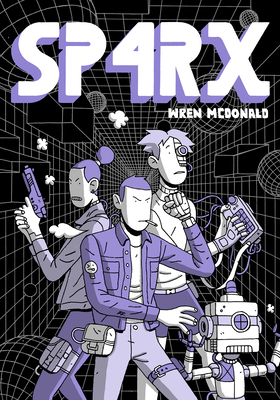 SP4RX (Paperback)
Nobrow, 9781910620120, 120pp.
Publication Date: December 13, 2016
* Individual store prices may vary.
Description
SP4RX is the story of mankind clawing for survival. Set in a future where a class system has emerged, the world is divided into four levels, with the elite ruling from the extravagant top level.

SP4RX, a young hacker who lives off grid, hacks into corporations and sells stolen data to wealthy buyers on the black market – just your average thief. Mega corporation Structus Industries introduces a welfare program called the "Elpis Program", which allows the working class to apply for Cybernetic implants to make workers more efficient. On the surface, it seems like a program to empower the poor and allow them to rise to the ranks of the elite. But SP4RX soon discovers all is not as it seems… SP4RX and Structus are set on a collision course with the fate of humanity at stake in Wren McDonald's latest sci-fi tale of survival and corruption!
About the Author
Wren McDonald is the author of cyber punk epic SP4RX, dystopian revenge story Cyber Realm, and several other self published mini-comics. He currently lives and works in Brooklyn, NY.
Praise For SP4RX…
ONE OF Kirkus Reviews' BEST TEEN BOOKS OF 2016
ONE OF DEN OF GEEKS BEST COMICS OF 2016

Teeming with rogue robots, political and corporate corruption, and raw, unflinchingly violent action, this is a must-read for fans seeking a smart sci-fi graphic offering that's a bit off the beaten path.
A pulls-no-punches techno-thriller; think Mr. Robot meets The Stepford Wives.
—Kirkus Reviews, STARRED REVIEW

Fans of sci-fi or dystopian comics will enjoy this fast-paced volume […]
—Booklist

While on first glance merely another cyberpunk pastiche, the book announces its arrival with a surprising degree of wit and style. Sometimes all that's necessary to make the old songs shine is to sing them in a new way. Sp4rx somehow manages to be both a fairly standard—downright predictable—cyberpunk thriller, and a showcase for McDonald's stylistically engaging and endlessly inventive cartooning.
—AV Club

Wren McDonald has not only found a way to produce a truly original contribution to the dystopian genre, but also to create a story that syncretizes numerous predecessors and influences while simultaneously critiquing them.
—ICV2

SP4RX reads as the love-child between William Gibson's Sprawl trilogy and Ridley Scott's Blade Runner
—Teen Librarian

Dynamic, stylish and laced with comedy.
—It's Nice That

This book is a serious joy to read [...] McDonald not only has a clear artistic vision of the worlds he wishes to create, but a strong handle on what topics he wants to explore. Thankfully, we get to come along and take part in an art-thought experiment like SP4RX.
—Bleeding Cool

"SP4RX" shows that the cyberpunk genre is just as relevant now as it was 30 years ago. It rehashes a lot of the conventions of the stories that came before it, but through Wren McDonald's design, eye, and voice, it still manages to find a way to say something
—Multiversity Comics

SP4RX is a tight little cyberpunk thriller that maximizes story economy and minimizes everything else while still retaining its satirical edge. […] The grimy quality of this future city reminds me a bit of Moebius […]
—Rob Clough

This is a book that has action, humour, politics and gritty science fiction a plenty. It is packed full of some excellent art and has a real edge to its storytelling. Wren McDonald is definitely someone I will be looking out for in the future.
—Down The Tubes

SP4RX is a really unique and original take on the traditional subject of a dystopian future.
—Pipedream Comics

McDonald's artwork is the big draw for me here; it has a dynamic quality with huge amounts of detail packed into it, where you want to examine every panel further just to see what you missed.
—Smash Pages

McDonald's art is awesome. My first instinct set a very high bar - it's like if Adventure Time, Neuromancer, and Akira got thrown in a blender. It's meticulously detailed and incredibly easy to get lost in, and I definitely did.
—Den Of Geek, The Best Comics of 2016

SP4RX is an outstanding cyberpunk sci-fi graphic novel packed to the gills with action, explosions, social commentary, rogue robots, violence, and smart writing. […] a graphic novel that shares DNA with the work of authors such as William Gibson and Philip K. Dick and classics like Akira and the film Blade Runner while simultaneously feeling fresh and unique. […] This is a must-read for fans of dystopian science fiction and all-around great graphic novels alike.
—Verbicide

This larger format has given Wren plenty of space to explore and experiment with his style - both in terms of aesthetic and storytelling - and has ultimately resulted in an even more epic page-turner!
—Headless Greg

Like any good science fiction story, the setting and plot are really a commentary on our current culture. The story reflects our concerns today.
—Kleefeld on Comics

SP4RX has all the bells and whistles in all the right places. This 116-page graphic novel is a full-bodied cyberpunk adventure that would make William Gibson and Philip K. Dick proud. […] McDonald's light-hearted cartoony style belies the story's serious cyberpunk undertones in an uncanny and engrossing way. The way McDonald plays with scale and pacing is masterful. […] Wren McDonald has created a perfect mashup here of humor and sci-fi.
—Comics Grinder

SP4RX, is a wonderful book full of amazing artwork as well as clever commentary on class-stratification and what the future could hold for our society if we don't start getting our act together.
—The Newest Rant