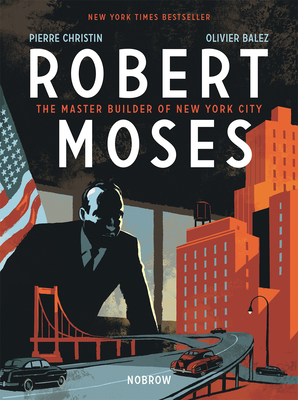 Robert Moses (Paperback)
The Master Builder of New York City
Nobrow Press, 9781910620366, 108pp.
Publication Date: January 30, 2018
Description
The achievements of one man changed the face of an entire city. Robert Moses: the mastermind of New York. From the subway to the skyscraper, from Manhattan's Financial District to the Long Island suburbs, every inch of New York tells the story of this controversial urban planner's mind. In paperback for the first time, Pierre Christin and Olivier Balez's comic book takes on the infamous "Power Broker" and unlocks the historical battles that created the modern metropolis.
About the Author
Pierre Christin was born at Saint-Mande in 1938. In addition to the ongoing Valerian series, Christin has written several other comics one-shots, including The City That Didn't Exist, The Black Order Brigade and The Hunting Party, all illustrated by Enki Bilal. Among the many European comics artist he has collaborated with are Enki Bilal, Jacques Tardi, Alexis, Raymond Poivet, Jije, Annie Goetzinger, Daniel Ceppi, and Francois Boucq. He has also written screenplays and science-fiction novels. This is his first collaboration with Olivier Balez. Olivier Balez is a longtime comics artist and children's book illustrator who resides in Chile, following years of study around the world. He has illustrated work in virtually every genre of comics, collaborating with Florence DeCamp, Eric Corbeyran, and Pascale Fonteneau, among many others.
Advertisement