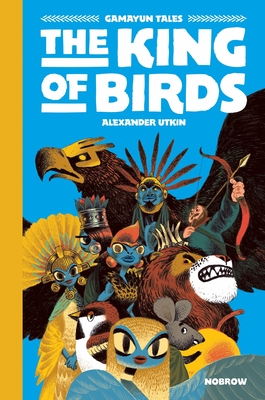 The King of the Birds (Hardcover)
Gamayun Tales Vol. 1 (The Gamayun Tales #1)
Nobrow, 9781910620380, 72pp.
Publication Date: April 10, 2018
* Individual store prices may vary.
Description
An action-packed debut title for middle grade readers with an appetite for folklore and mythology, who are ready to move beyond storybook fairy tales. Debut author Alexander Utkin, retells the Slavic myths of his youth in a stunning new graphic novel, illustrated in a bold new style. 

When a merchant nurses the King of Birds back to health after he is injured in a great war, he is offered a great reward. Together they travel far across the land to the domains of the King's three sisters to claim the merchant's prize... but will they give up that which is most precious to them?
About the Author
Alexander Utkin is an illustrator, comic artist, designer and musician from Russia. He studied at Moscow State University of Printing Arts, graduating in 2006 with a Master of Arts. The Gamayun Tales are based on Russian folks tales from his youth.
Praise For The King of the Birds: Gamayun Tales Vol. 1 (The Gamayun Tales #1)…
"Utkin's rendering of Russian mythology succeeds through its use of simple folklore and inspired artwork."
—Library Journal

"Utkin's work is mesmerizing and haunting both visually and narratively, his striking characters wavering between majestic and malevolent."
—Publishers Weekly

"If you grew up on Ingri and Edgar Parin d'Aulaire's books of Greek, Norse and American mythology, poring over the pictures at least as much as the text, then this is what you're looking for in the modern era. Beautiful character design, vibrant color and nicely varied panel structure..."—Paste Magazine, "The 20 Best Kids Comics of 2018"

"...one may remember that fairytales are most often told to children. But while kids will certainly enjoy The King Of Birds, Alexander Utkin imbues this book with an energy that is enchanting to all."—The Comics Journal

"Utkin's art is different from that found in most mythology books; his vigorous lines and vibrant colors beautifully portray all kinds of animals and mythical creatures in action."
—VOYA Magazine

"Utkin's series of graphic novels based on Russian folklore features lush illustrations that alternate between crisp figure drawings and natural elements that seem to burst off the page."—Meduza